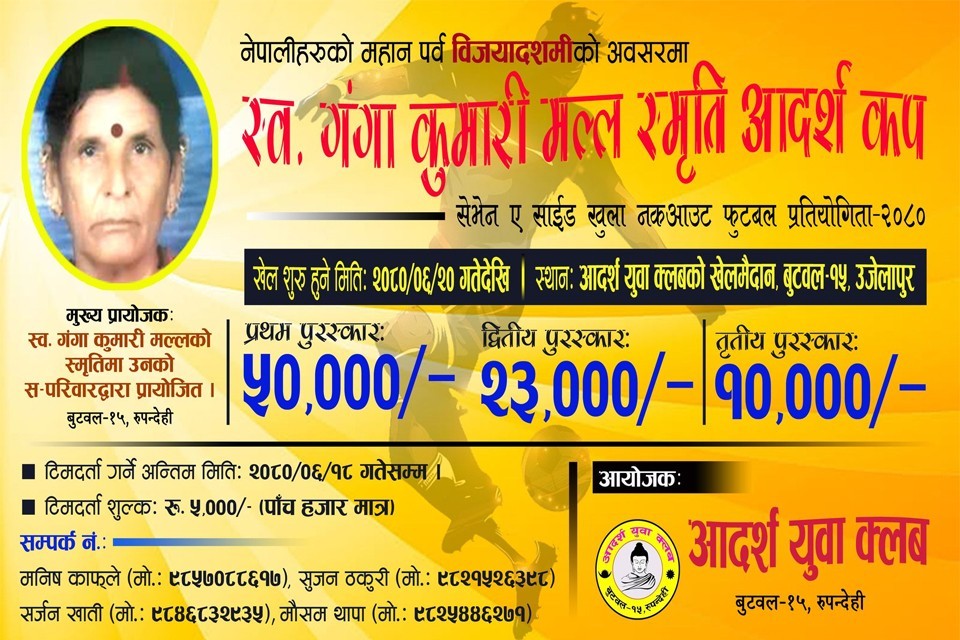 Adarsh Yuva Club, based in Butwal-15, Ujelapur, is gearing up to host the eagerly anticipated Ganga Kumari Malla Smriti Adarsh Cup Seven-A-Side Open Knockout Football Tournament, set to kick off this October 20th.

Team registrations for this prestigious tournament, scheduled to take place at the host club's grounds in Butwal-15, Ujelapur, are now open until the 18th of October, with a fixed registration fee of 5000.

Sujan Thakuri, the Publicity Coordinator and a resident of Butwal-15, shared that the victorious team of the Ganga Kumari Mall Memorial competition, generously sponsored by the Mall family, will not only secure the championship title but also be awarded a cash prize of 50,000. Meanwhile, the runner-up team will be presented with a 23,000 cash prize, along with a trophy, medals, and certificates.

Furthermore, organizers have announced that the third-place team in this exciting competition, coinciding with the Vijayadashami festival, will be rewarded with a cash prize of 10,000. Additionally, Manish Kafle has revealed that there will be commendable awards in store for outstanding individuals in various categories.

Football enthusiasts and participants alike can look forward to an exciting and rewarding tournament experience."