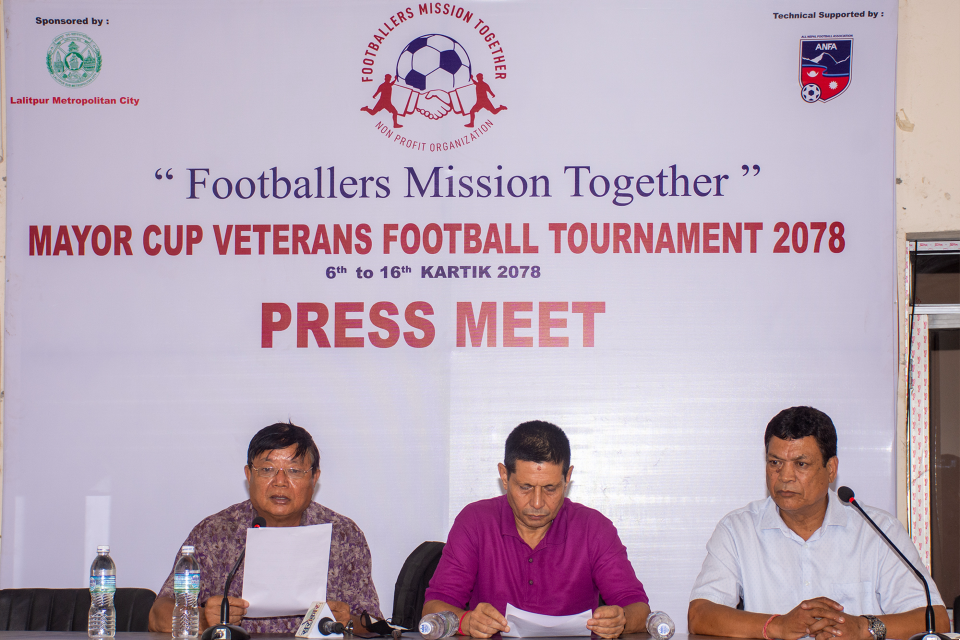 The winners of Mayor veteans cup will get Nrs 5 lakh, the organizers have confirmed.

The runners up team will get Nrs 2,50,000.
Footballers Mission Together is organizing the Mayor Cup Veterans Football Tournament-2078 which will be held at Dashrath Rangashala Stadium from 6th of Kartik to 16th of Kartik 2078.

According to general secretary, Dhirendra Pradhan, eligible players for the tournaments are players above 40 years old. Teams can include 3 players above 35 and below 40 years old.

21 teams have confirmed their participation.

The Opening match will be played between Nepal Army Veterans and Football Fellowship.

Following are the teams along with group division:

Group A
A1. Nepal Army Veterans
A2. Football Fellowship
A3. Pharping Sports
Group B
B1. NRT
B2. Bhandimandal Veterans
B3. We are brothers
Group C
C1. Friends Club
C2. S.N.K.C
C3. Bouddha Veterans
Group D
D1. Khumal Veterans
D2. Lalitpur Ward No. 14
D3. Shining Sun
Group E
E1. Kavre Veterans
E2. Hetauda Municipality
E3. Jhapa F.C.
Group F
F1. Chitwan Veterans
F2. Chitwan Pachim
F3. Butwal Municipality City
Group G
G1. Jhamsikhel Veterans
G2. Shree Kumari Club
G3. Pokhara Veterans