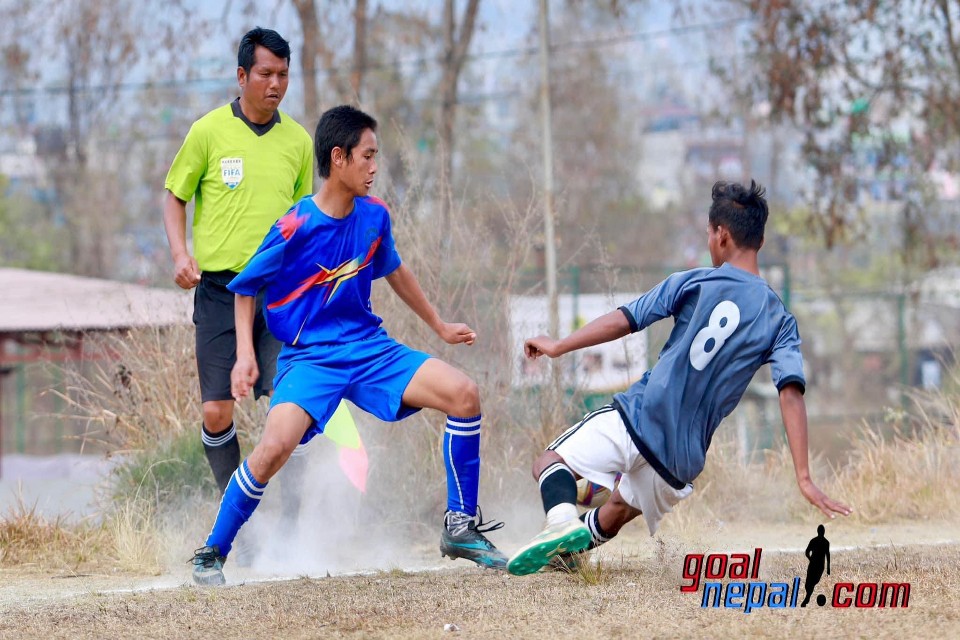 Pokhara (GoalNepal) - Kalika Secondary School and Bhadrakali Secondary School will compete for the first Chancellor's Running Shield Football Tournament title. The match between these two will start at 1.30 pm on Friday at Pokhara Stadium.
Bhadrakali defeated Indra Rajya Lakshmi Secondary School 6-2 in the first semi-final held on Thursday under the competition organized by Gandaki University and secured a trip to the final. Bhadrakali's Amit Gurung scored a hat-trick. He scored in the 38th, 55th and 59th minutes of the game. Yuk Gurung, Amir Gurung and Dipesh Gurung scored one each. Even though Dinesh Ghartimagar scored two goals for Rajyalakshmi, he could not save the team from defeat. He scored in the fifth minute and the 18th minute.
Kalika defeated Shahid Smriti Awasiya Secondary School 1-0 in the second semi-final and made their way to the final. Tej Bahadur Gurung scored in Kalika's victory. The goal scored by Tej in the 31st minute of the match was decisive.
The competition winners will receive one lakh and the runners-up will receive a trophy and medal along with 50 thousand rupees. Rs. 10,000 has been arranged for the player of the tournament along with a trophy. Organizers said that the newly appointed Minister of Social Development and Health, Pancharam Gurung, will be present at the final game.
This university is the first university established by the provincial government in Nepal. Along with conducting various educational programs, the university is also giving priority to exploration and research. This university is the first and only university in Nepal to start teaching sports management at the undergraduate level.
POKHARA STADIUM - 10% WORK IS STILL LEFT