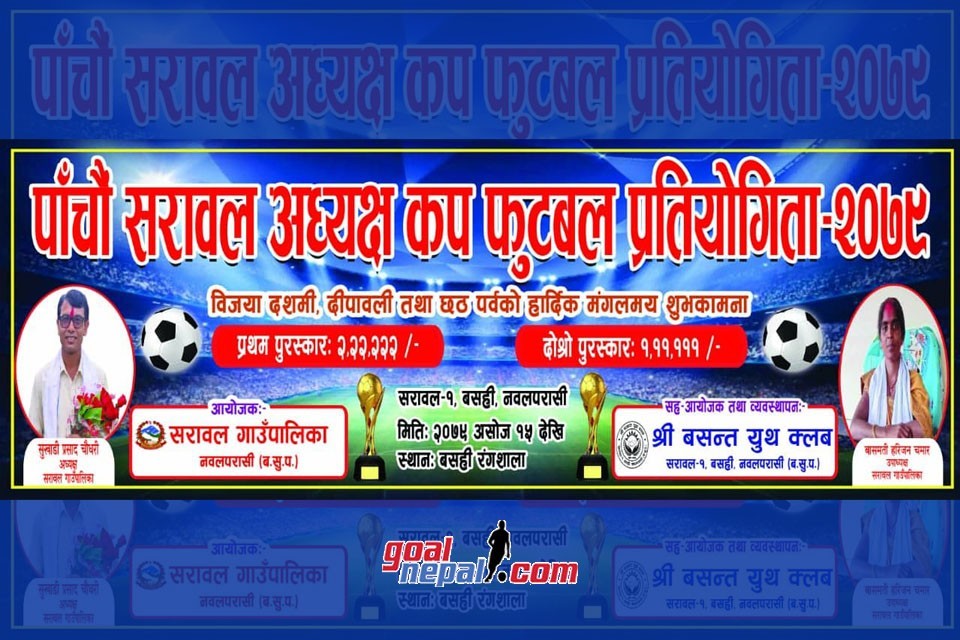 Sarawal Rural Municipality, Nawalparasi will organize the fifth Sarawal President's Cup open knockout football tournament with the district's second largest prize money. Organizers also informed that all the preparations for the competition, which is going to start from Ashoj 15th on the occasion of the coming festivals of Bijayadashami, Dipawali and Chhath, have been completed.
Chairman of Sarawal Rural Municipality Sukhadi Prasad Choudhary said that the aim of the rural municipality is to bring the competition to the national level by connecting with the identity and prestige of the district at the Basahi Stadium located in Sarawal-1, Basahi. Likewise, Basmati Harijan Chamar, the vice president of the village, said that they have taken the initiative and effort to make the district known through sports.
The winners of the competition, which will be co-organized by Shree Basantu Youth Club, Sarawal-1, Basahi, Nawalparasi, will get a cash prize of Rs 2,22,222 and the runners-up will get Rs 1,11,111. Similarly, the organizers has informed that attractive prizes have also been arranged for different categories.