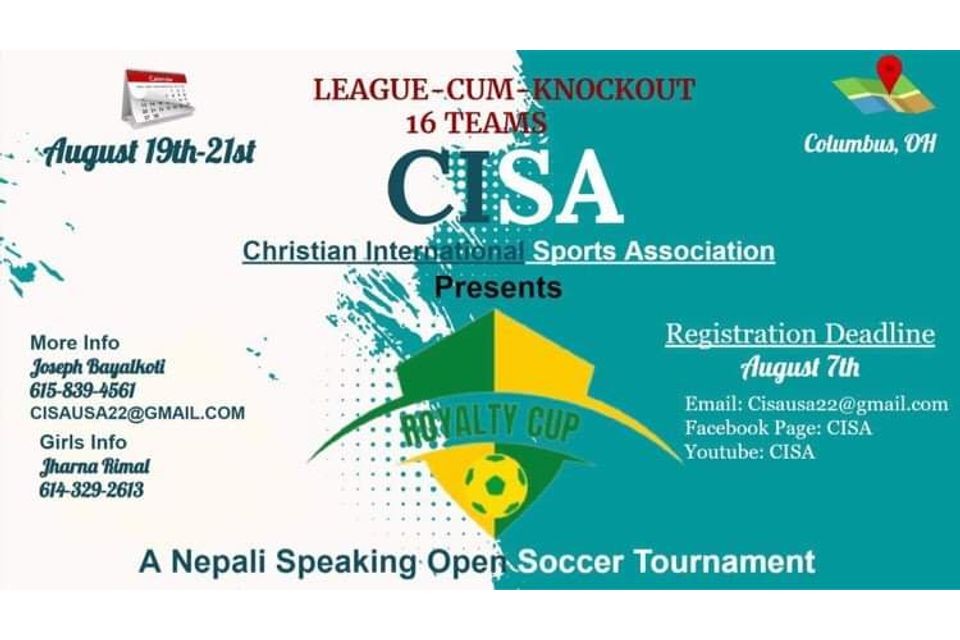 Christian International Sports Association (CISA), a newly formed sports organization in USA is hosting "Royalty Cup" for both men and women for the first time in Columbus, Ohio. With a vision to create a professional soccer platform for all the Nepali speaking soccer players in USA and Canada, the CISA is hosting its first edition of the "Royalty Cup" and aims to continue in years to come.
"We are allowing only sixteen teams for men's category and eight teams for women's category. The tournament is only for Nepali clubs from USA and Canada", said Joseph Bayalkoti, one of the founding board members of the organization.
The competition will run for three days from August 19th to 21st.
"The champions will receive cash prize of $10,000 with a trophy and the runners-up team will receive $6,000 with a trophy for men's and for women's, it's yet to decided, said another founder of the organization Barun Silwal.
"We are organizing the tournament in a league-cum knockout format so that a team can enjoy multiple matches in the competition and a player can show his/her skills to the fullest", said Lakpa Tamang, another founder of the organization.
The tournament is sponsored by local businesses and individuals where Mercy home health services, LLC has stood as a diamond sponsor.