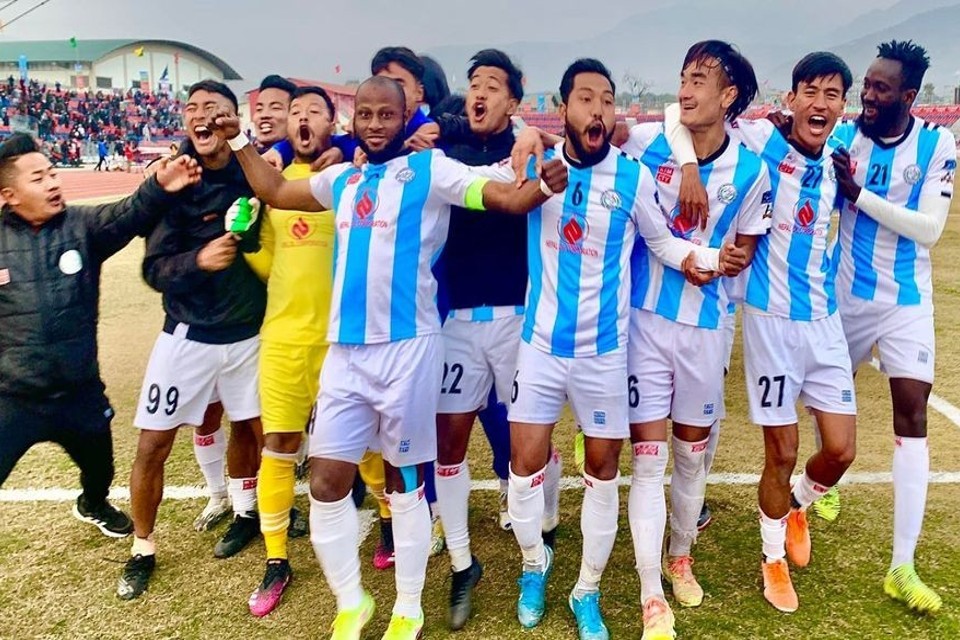 Manang Marshyangdi Club have advanced to the final of the prestigious 20th Aaha! Rara Gold Cup with a 4-3 victory over Tribhuvan Army Club on penalties at the Pokhara Stadium today.
In a highly competitive match, both teams couldn't break the deadlock in the regulation time of ninety minutes and the match was sent to extra time. A lot of chances were wasted at both ends of the pitch.
Manang Marshyangdi had a golden chance to open the scoring in the opening minutes of the match after they were awarded a penalty after Army defender Youddha Shahi handled the ball inside the box. But Manang skipper Bimal Rana skied the penalty over the bar and missed the chance to take the lead.
A series of chances arrived for Army in the 35th minute, the first of which fell for Bibek Basnet who received the ball on the right-hand side, cutting in and miscueing the shot, the ball found a way to hit the crossbar and fell for a heading opportunity for Bharat Khawas who then headed it wide.
Both goalkeepers made a few crucial saves in the second half, the best of which was made by Army GK Bikesh Kuthu in the 52nd minute of the match off a shot from Adelaja. No goals were scored in the regulation time of ninety minutes and thirty minutes of extra time. And the match was pushed to penalties.
In the shootout, Manang's Franklin Talla, Shiva Gurung, Rupesh KC and Olawale Afeez converted their kicks and Bishow Adhikari missed while Army's Bharat Khawas, George Prince Karki and Bibek Basnet converted whereas Deepak Gurung and Youddha Shahi failed to convert their spot-kicks.
MMC will now face Nepal APF Club who defeated Machhindra yesterday to make it to the final. The final will be played on January 29.
The winner of the tournament organized by Sahara Club, Pokhara will receive Rs. 10 Lakhs.
5th Jhapa Gold Cup: Tribhuwan Army FC Vs MFC Darjeeling - MATCH HIGHLIGHTS