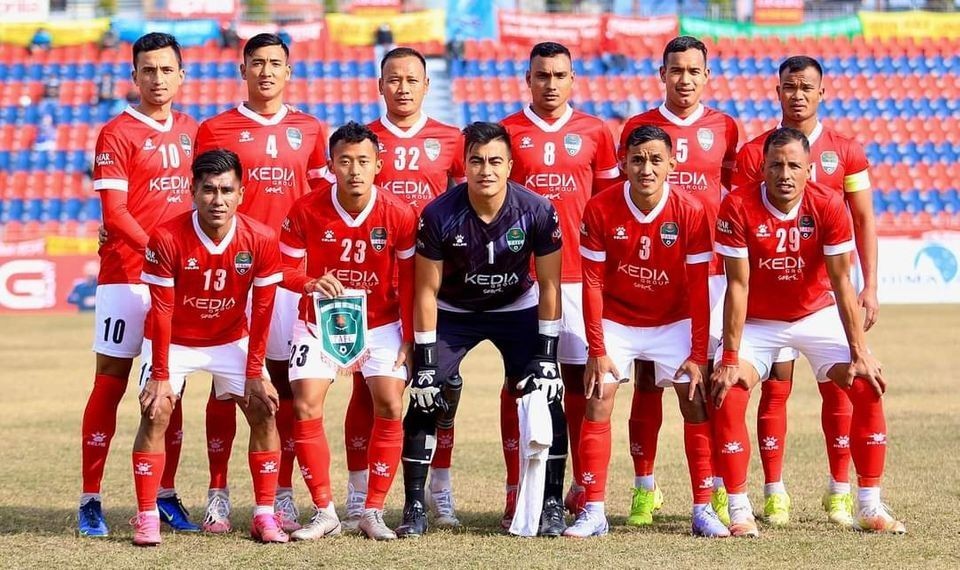 We're approaching kick-off. Check for live updates here:
1': Kick-off. MMC in their traditional sky blue and white stripes. Army in red.
8': Penalty for Manang Marshyangdi Club courtesy of a handball from Army defender Youddha Shahi.
9': Manang skipper Bimal Rana skies it way above the crossbar. Poor spot-kick from Bimal. It stays 0-0.
20': Still 0-0 at the 20-minute mark.
35': A series of chances for Army, the first of which fell for Bibek Basnet who received the ball on the right-hand side, cutting in and miscueing the shot, the ball found a way to hit the crossbar and fell for a heading opportunity for Bharat Khawas who then headed it wide.
Half-time: MMC 0-0 TAFC
46': We're back underway for the second half.
52': Bikesh Kuthu with a brilliant save off Adelaja on his left.
70': Both teams creating a lot of chances but haven't been clinical. Still 0-0.
80': Both goalkeepers have been busy today. But they have not let anything get past them.
0-0 at the end of regulation time. We're headed to extra time.
HT of Extra time: The game has slowed down, expectedly with a lot of tired legs and both teams have not been able to break the deadlock. 0-0.
End of ET: 0-0 at the end. We're headed to penalties.
After penalties: MMC are into the final with a 4-3 win in the shootout.
5th Jhapa Gold Cup: Tribhuwan Army FC Vs MFC Darjeeling - MATCH HIGHLIGHTS