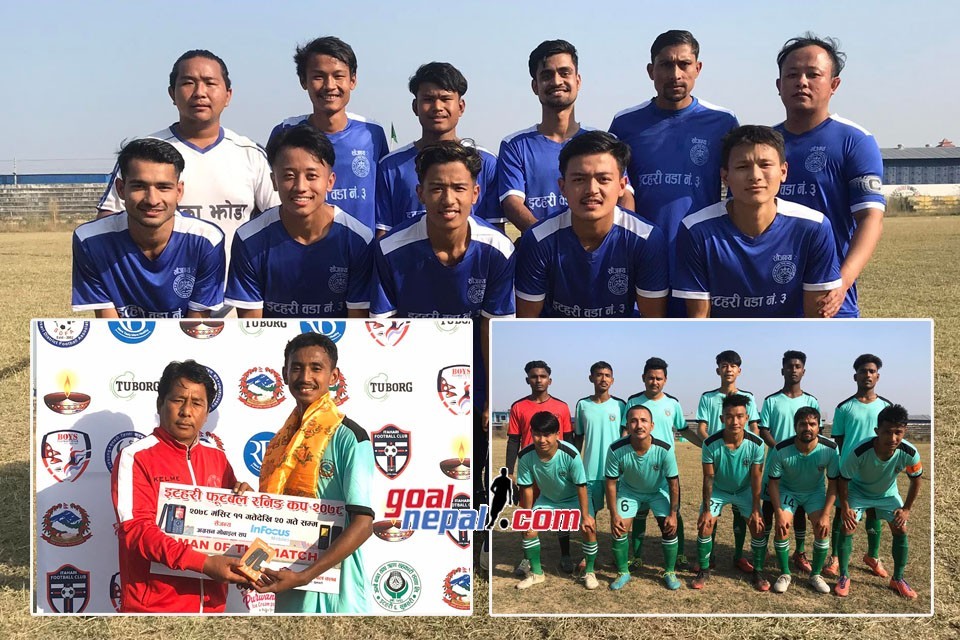 Ward No. 3 and Ward No. 20 both won their games in the Itahari Football Running Cup Ward Level Knockout Football Tournament on Monday.
Ward No. 3 won the first match at the Regional Stadium in Itahari, defeating Ward No. 9 2-1. The first goal was scored by Sanam Limbu in the 20th minute, and the second goal was scored by Bishu Shrestha in the 44th minute.
In the 61st minute, Sameer Rai scored Ward No. 9's only consolation goal. Sumit Chaudhary of Ward No. 9 was named Man of the Match despite losing the match. Manta Bahadur Tamang, a member of Nepali Congress Sunsari Constituency No. 3, presented him with a mobile phone.
In the second match, Ward No. 20 defeated Ward No. 18 by a narrow margin. Suman Limbu scored Ward No. 20's only goal in the 11th minute. Limbu was also named the match's best player. He was also given a phone as a reward.
Wards No. 3 and 20 have advanced to the competition's quarterfinals as a result of their victories. The two games, according to the organizers, will be played on Tuesday between Ward No. 2 and Ward No. 8, and Ward No. 4 and Ward No. 16.
The winner of the Itahari Football Club competition will receive 50,000 rupees in addition to the title, while the runner-up will receive 30,000 rupees.
On December 6, the final match will be played.