Province 7
Kailali: Mankamana Youth Club Wins Far Western Capital Cup
Kailali: Mankamana Youth Club Wins Far Western Capital Cup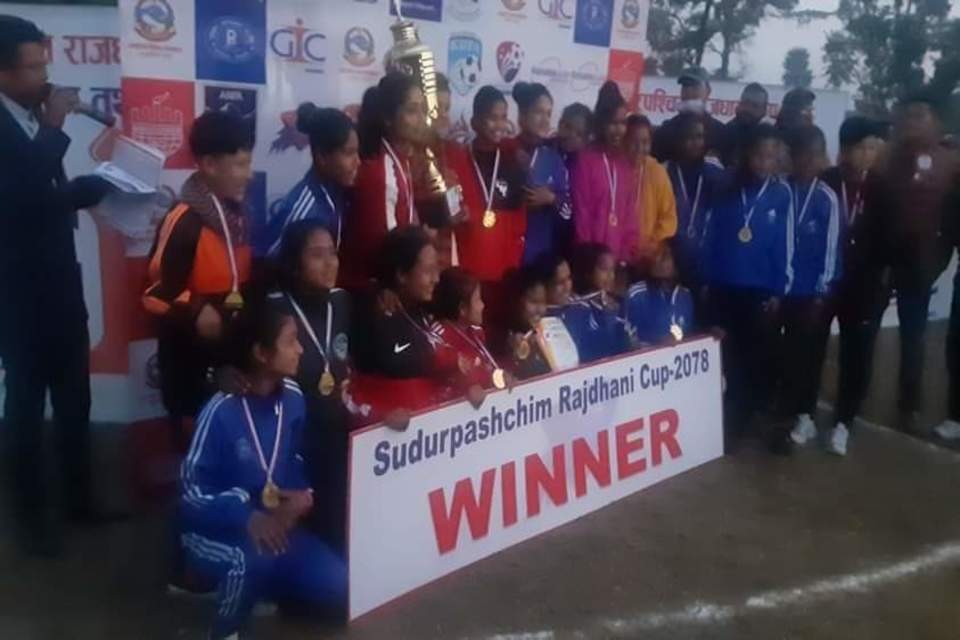 Far-Western Capital Cup Men's and Women's football tournament that was held in Godawari Municipality-8, Syaule, Kailali has seen Manakamana Youth Club bag the title in women's tournament by defeating Royal Gorkha 3-0 in the final.
Anjana Rai opened the proceedings in the 19th minute and Tulasq Bohora and Neha Khadka added a goal each in the second half to win the title
Manakamana received Rs. 1,50,000 along with a trophy, medals and certificates while Gorkha Royal took home Rs. 75,000 along with a trophy, medals and certificates. Manakamana's Anjana Rai was declared the player of the match of the final and received Rs. 3000.
Best defender award went to Manakamana's Saraswati Rokaya, best midfielder went to Gorkhas' Anjali Chand, highest goalscorer was Manakamana's Anjana Rai and best goalkeeper went to Manakamana's Lila Joshi. Rising player of the tournament went to Attariya's Sonam Shah. Each of them received Rs. 10000, trophy, medal and certificate.
Player of the tournament, Tulasa Bohora of Manakamana received Rs. 15000.
The tournament held in a knockout format had 6 teams participating in it.
Friendly Match: Nepal U15 Girls Team Vs Bhutan U15 Girls