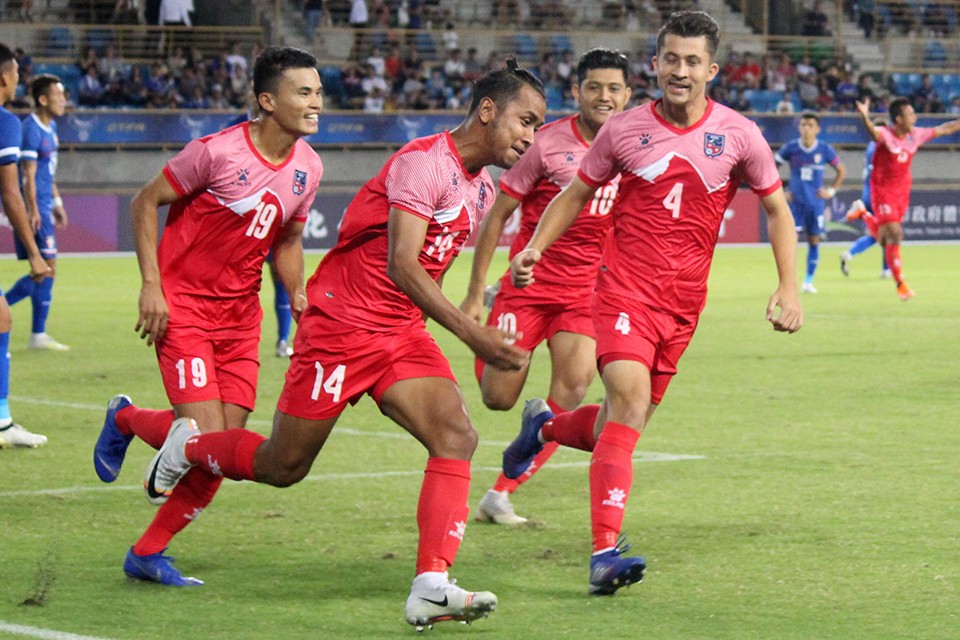 Match Analysis

Chinese Taipei vs Nepal
0:2
This was much improved performance by Team Nepal. Eventually we won 2-0 which was well deserved. Anjan Bista is man of the match for two goals, but Rohit chand was by far the most outstanding player in the pitch. We can always get more out of Rohit when we play him in central role.
Like pervious match we had same formation, but this time we had Rohit in more central role which made team more stable and defensively stronger.
As I stated in previous match analysis closing down space in middle third and pressing quickly today our team was spot on. Our two wide midfielders Sujal Shrestha and Ravi paswan did good job playing more inside rather like in first match they were playing wide, which made life difficult for Chinese Taipei to penetrate our defense as we were more compact, and boys were very quick to close down.

Defensively, we did brilliant job. And as our plan was to counter attack, we did well. Transition from defense to attack was very quick which put opponent in back foot and eventually we did score two goals.
I would say everything went as per plan- to be more compact defensively, frustrate the opponent, counter attack and early goal really helped our team to settle.
This was strong performance but question is can we take this one step further ?
Like in this game we were able to contain the opponent and hit them in counter attack.
Can we take further trying to keep the ball in opponent's half when we are in control. I did see the possibilities like today we had more players in attacking third.

There were situations where we were 3v3, 4v5 and I think that's very positive as a team which gave us second goal. I saw in some situation we could have kept ball for more time rather just crossing it quickly but I totally understand that was plan for today to attack quick.
I would like to congratulate our team and wishes them to keep up good work. And also huge congratulation to coach Johan Kalin for putting the things in order.

Nepal will now travel to Canberra to take on mighty Australia on October 10.

Bal Gopal Sahukhala is a former A Division league player and AFC B licensed coach.
ANFA Starts Maitenance Of Dasharath Stadium Grounds For FIFA WC QFs