New Road Team(NRT) made a winning start as they hammered Chyasal Youth Club 4-1 in the opener of Lalit Memorial U-18 Championship 2019 at ANFA Complex, Satdobato on Wednesday.

Rejan Majhi scored goal in the very first minute. Shyrab Lo Tamang scored an equalizer in the 44th minute making the scoreline 1-1 just before going for half time break.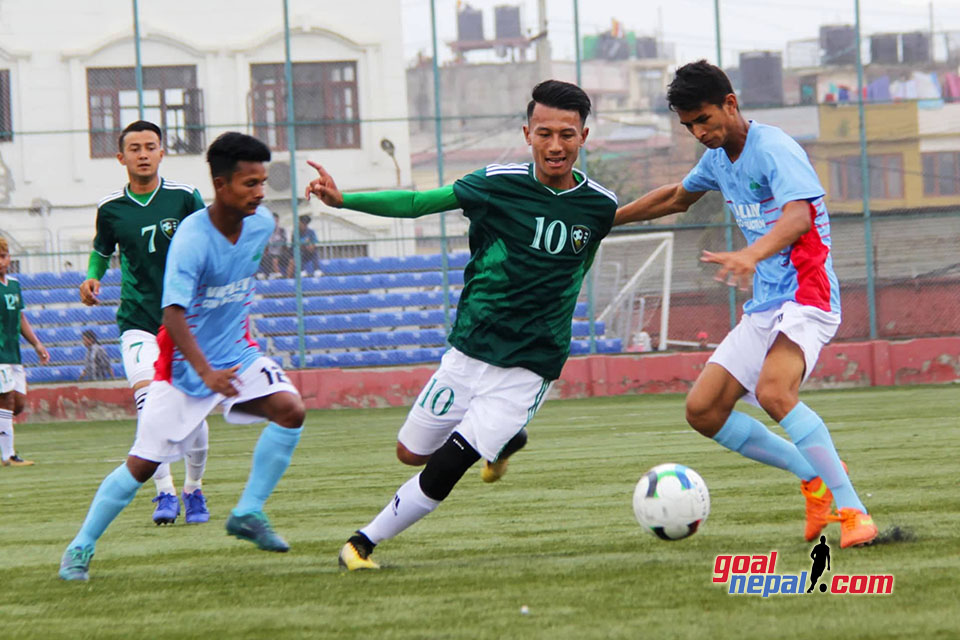 Kritish Ratna Chhunju put NRT ahead in the 54th minute. Sujan Sharma scored through spot-kick in the 81st minute. Bibek Rai made 4-1 up against Chyasal Youth Club in the 87th minute.
NRT First XI: Pujan Hona(GK), Man Kumar Rai, Darshan Gurung, Hari Sitaula, Bibek Rai, Rejan Majhi, Manish Thapa(C), Nabin Gurung, Sanam Sodemba Limbu, Sujan Sharma Dhital, Kritish Ratna Chhunju.
Chyasal Youth Club First XI: Santosh Mahat(GK,C), Mohan Dallakoti, Bibek Ale, Dhiraj Sinjali Magar, Shyrab Lo Tamang, Aayush Shrestha, Karma Sherpa, Manraj Lawati, Narendra Bahadur Rawat, Bikram Dong, Dipendra Malashi.

Sankata Club versus Machhindra Club and MMC versus Three Star Club are scheduled on Asar 6.

14 A Division teams are competing in the championship, which is organized in the memory of late ANFA VP Lalit Krishna Shrestha.
The teams are divided into three groups A, B and C.
Himalayan Sherpa Club, NRT, Sankata Club, Machhindra Club and Chyasal Youth Club are in group A. Nepal APF Club, MMC, Nepal Army Club, Friends Club and Three Star Club are pitted in group B. Group C consists of Nepal Police Club, Brigade Boys Club, Saraswoti Youth Club and Jawalakhel Youth Club.

What A Free Kick GOAL By Dinesh Henjan Against Lumbini FC