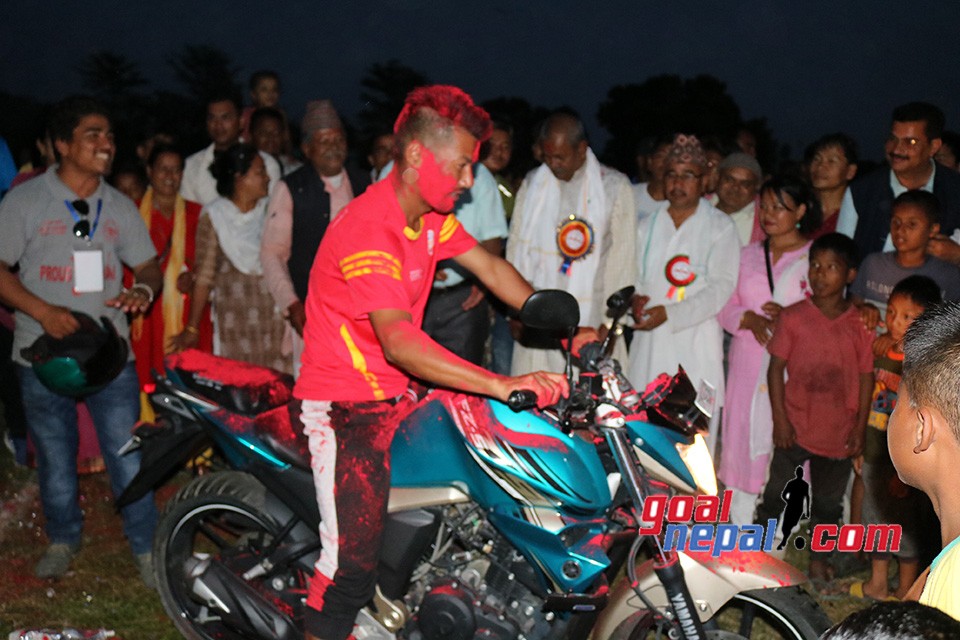 Bagmati yuwa club skipper Sagun Rai has been awarded with Bagmati Samman 2076. He received a motobike.

He was honored for his service to Bagmati yuwa club and for his contribution to development of football in Sarlahi.

Ruslan Three Star Club clinched the title of 3rd Rajarshi Janak cup football tournament defeating hosts Bagmati Municipality 2-1 in the final match at Santosh Shrestha memorial ground, Bagmati, Sarlahi on Friday.

Bagmati striker Bimal Ghising was announced the rising player of Sarlahi. He was awarded with a mobile phone.

Sushil Rai got the highest goal scorer award. He received Rs.20,000.

Bagmati goalie Arun Tamang was rated the best goalkeeper award.

Bagmati defender Ekene Christian received the best defender award.

Three Star Club midfielder Bikram Lama was adjudged the best midfielder of the championship.

Winning team coach Megh Raj KC got the best coach award.

The best players in each category and the best coach received Rs.20,000 each.
Champions bagged 10 lakh rupees while runners-up team received 5 lakh rupees.
Bagmati yuwa club and Bagmati municipality organized the championship.
Sarlahi: Interview With Bagmati Mayor Bharat Thapa