The 23rd edition of Fr. Moran Memorial Invitational Primary Level Football Tournament 2018 organized by St. Xavier's School, Godavari with the theme "Come Together, Play Together" kicked off today in Lalitpur.

Little Angels' School, Hattiban beat St. Xavier's School, Jawalakhel 5 - 0 in the opening match.

Prasoon Tuladhar, Vigul Pokhrel, Suraj Tamang, Ashutosh Lawat and Anmol Limbu scored apiece for the winners.

Tuladhar became the player of the match.

St. Xaviers Godawari defeated The Changbagh School 11-0 in the second match. Player of the match Abhisekh Lo scored a hat trick while Subhay Maharjan and Saugat Shahi scored brace each. Sizan BK, Prasiddha Thapa Magar, Roj Ghale and Jameen Sunuwar scored apiece for the winners.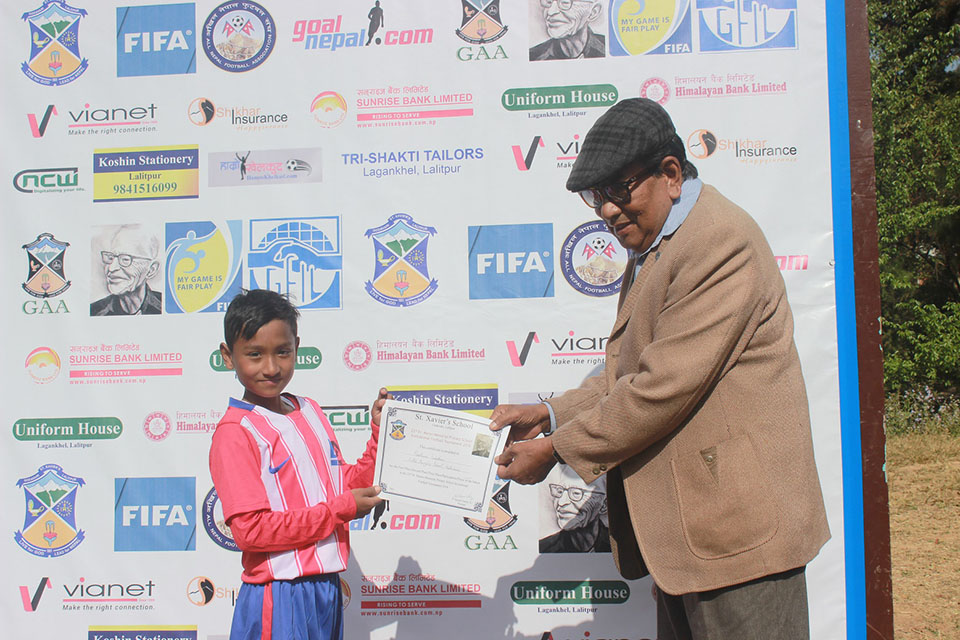 Cresent academy Godawari defeated Godawari residential school 6-0 in the last match of the day.

Player of the match Nirjal Lama scored a hat trick while Shiva Thapa Magar, Sujal Tamang and Reeyaz Tamang scored apiece for the winners.

Tomorrow's matches:

1. Moran Memorial School, Jhapa vs Bright Future School, Satodbato @ 10:00 am

2. St. Xavier's School, Deonia, Jhapa vs Nepal Don Bosco School, Luvu @ 11:20 am

3. DAV School, Jawalakhel vs Eden Garden School, Baghdol @ 1:10 pm