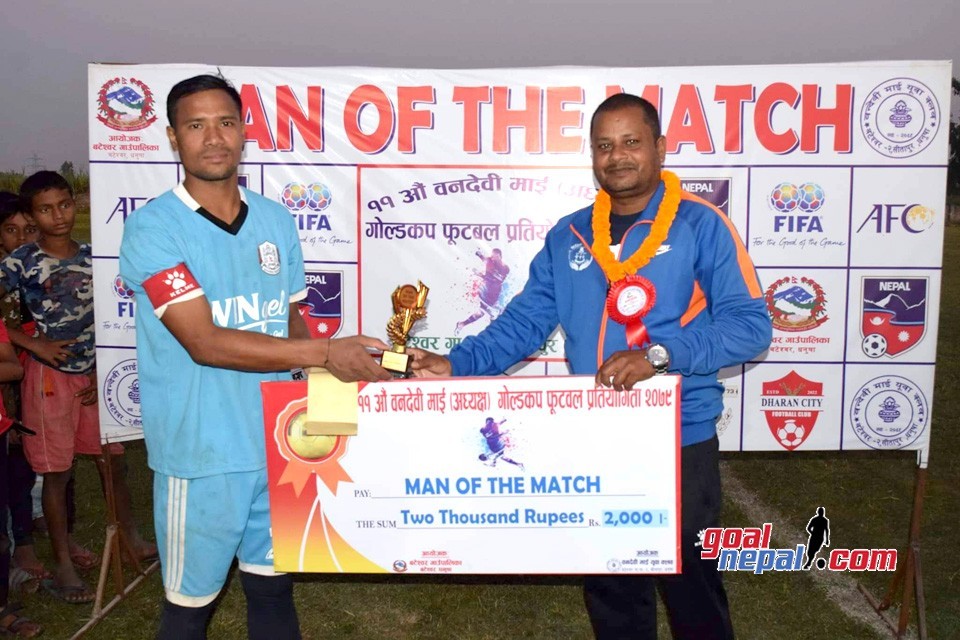 Dhanusha - Birgunj United, Parsa have made a winning start in the 11th Bandevimai Gold Cup Knockout Football Tournament. In the opening match on Tuesday, Birgunj got off to a winning start by beating Jana Sevi Youth Club, Mahottari 3-1 on penalties.
Before that, both the teams played an exciting 2-1 draw of 2-2 in the scheduled time. In the seventh minute of the game, Jana Sevi took the lead with Pepe's goal. Biley doubled that lead in the 24th minute. But Birgunj made a brilliant comeback in the game.
In the 32nd minute, Yubraj Khadka scored the first goal for Birgunj. Two minutes after that, Sirjanraj Gautam scored the second goal equalized for Birgunj.
In the tiebreaker, only Rupak Lama could score for Jana Sevi. Pradeep Lama and Roshan Pahari's shots were saved by the opposing goalkeeper, while Biley's shot went off the post. Shyam Chaudhary, Anish Chaudhary and Yubraj Khadka converted their shots into goals for Birgunj.
Dilmani Chaudhary of Birgunj was elected as the player of the match. He received Rs. 2,000 cash as a reward. With this win, Birgunj have also entered the semi-finals of the competition.
The organizers informed that the second quarter-final match on Wednesday will be held between Bandevimai Youth Club, Dhanusha and Hariwan Youth Club, Sarlahi.
The winners of the competition organized by Bandevi Youth Club, Bateshwar, Dhanusa will receive Rs. 1,50,000 in cash along with the title, while the runners-up will receive Rs. 50,000.
The final of the tournament, in which a total of eight teams are participating, will be held on the 17th of Kartik.