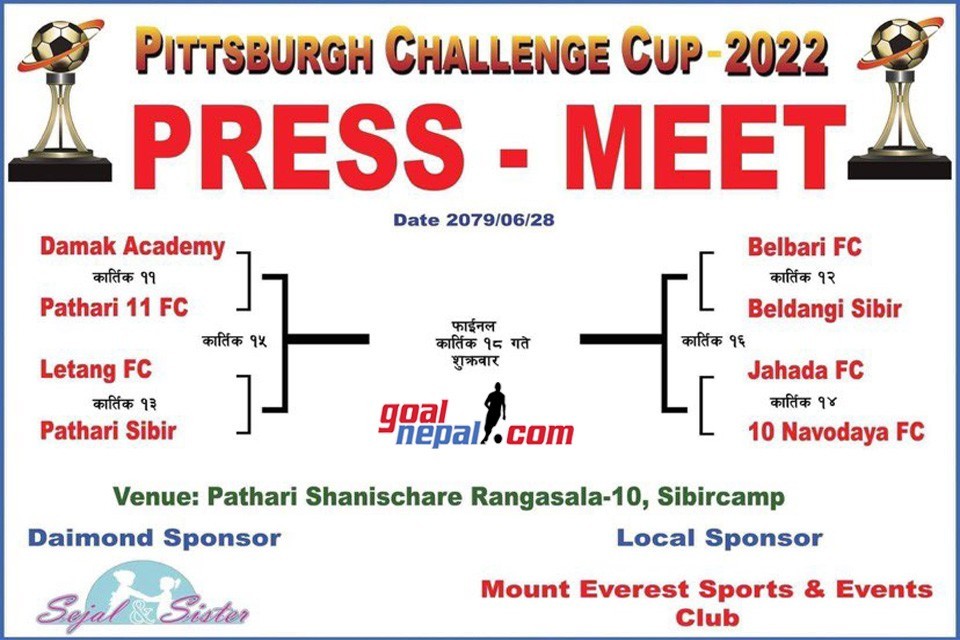 Morang - The Pittsburgh Challenge Cup is going to be held at Shibir Camp in Patharishanishchare Municipality Ward No. 10 of Morang. The organizers informed that there will be a competition organized by the Nepali Bhutanese community.
The tournament, which will be held at the proposed Pathari Stadium located in Ward No. 10, Patharishanishchare, is going to be held under the financial management of the Nepali Youth in America. The tournament will commence on the 11th of Karthik.
Organizing Committee Coordinator Ganesh Thaklung Limbu said that eight teams will participate in the tournament, namely Damak Academy, Pathari 11 FC, Chartare FC, Bhutanese Refugee Camp Patharishanishchre, Belbari FC, Beldangi Bhutanese Refugee Camp, Jahada FC and 10 Navodaya.
According to the organizing committee, the first and second-placed clubs in the competition will be awarded Rs. 2,01,000 and Rs. 1,01,111 respectively. Bikki Rai of the organizing committee said that the man of the match of each game will be awarded Rs. 2,500 cash prize and the other statutory best players will be awarded cash prizes ranging from 5 to 7.5 thousand rupees.
Arjun Bista said that the Pittsburgh football tournament is also being held in America among Nepalis.
6th Rumpum Udayapur Gold Cup: Morang Stuns Nepal Police - MATCH HIGHLIGHTS