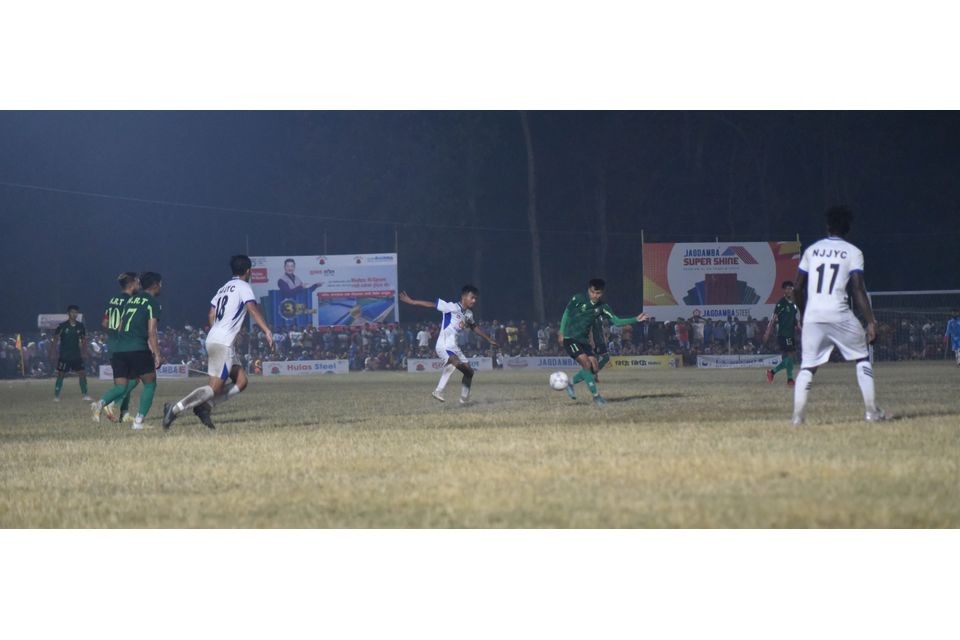 New Road Team (NRT) have qualified for the final of the Jitpur Simara Gold Cup 2078. NRT defeated hosts Nawa Jana Jagriti Youth Club 3-2 to reach the final.
Stephane Binong opened the scoring for NRT in the 31st minute of the match. The hosts leveled the score in the 65th minute through Ayush Ghalan's goal. Messouke scored in the 85th minute to give NRT a 2-1 lead. Stephane Binong scored his second individual goal in the 87th minute to extend NRT's lead and took the scoreline to 3-1.
After that, Alan Thapa pulled one back for the hosts in the stoppage time of the game but they lost 3-2.
Stephane Binong was named the player of the match and received Rs. 5,000.
APF Football Club and Bagmati Youth Club, Sarlahi will take on each other in the second semifinal today.
Former winners Sankata Club, New Road Team, Himalayan Sherpa Club, APF Football Club, Friends Club, Sudurpaschim-11 Sports Club, Bharatpur Football Club, Bagmati Youth Club, Bijay Youth Club and organizers Nawa Jana Jagriti Club are participating in the competition.
The organizers will provide Rs. 10 lakhs to the winners of the Gold Cup and Rs 5 lakh to the runners-up. Similarly, the best players of all disciplines will be given Rs 20,000 each. The best player of each game will get Rs 5,000 while an emerging player from Simara will also be honored with cash.