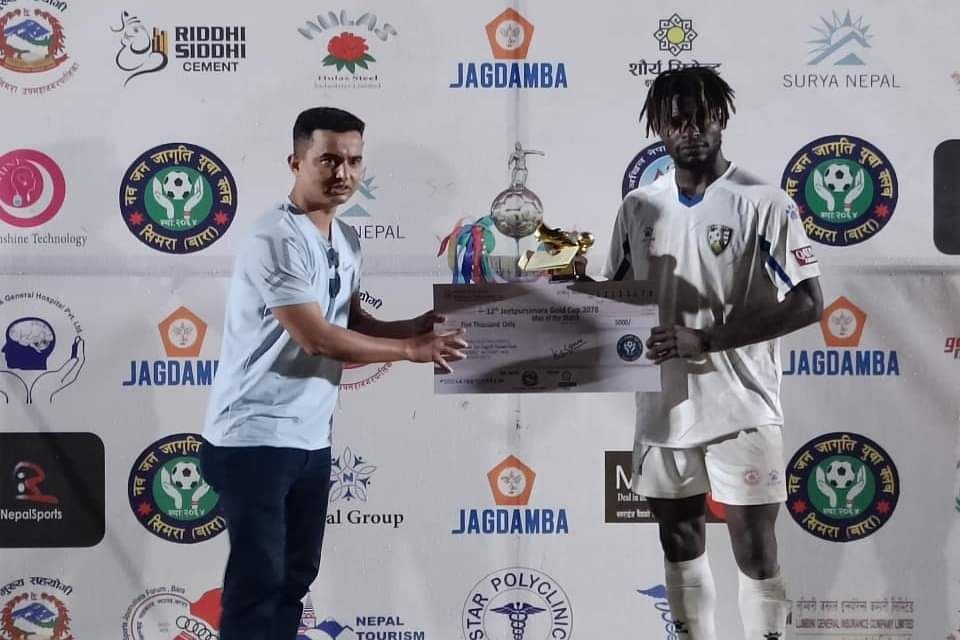 New Road Team (NRT) have qualified to the semifinals in the ongoing Jitpur Simara Gold Cup 2078.
In the match played on Saturday, NRT defeated Bijaya Youth 3-1 make it to the final four.
Bimal Rana gave Bijaya Youth the lead in the 18th minute of the match off an Amir Shrestha ball-in. But just five minutes later, Messouke Oloumou equalized for NRT off a Bishal Tamang cross.
NRT had fielded Hetauda's Ranjan Hamal against his hometown club. NRT had to see a lot of chances go begging due to lack of clinical finishing. Bijaya Youth GK Ashok Baral also had a few good saves to his name due to which the match was sent to extra time.
Messouke scored his second in the first minute of extra time to give NRT the lead. Stephane Binong added another in the 25th minute of extra time to seal the victory for NRT.
Messouke was named the player of the match and received Rs. 5,000 in cash.
Himalayan Sherpa Club and APF FC will face each other on Sunday.
Former winners Sankata Club, New Road Team, Himalayan Sherpa Club, APF Football Club, Friends Club, Sudurpaschim-11 Sports Club, Bharatpur Football Club, Bagmati Youth Club, Bijay Youth Club and organizers Nawa Jana Jagriti Club are participating in the competition.
The organizers will provide Rs. 10 lakhs to the winners of the Gold Cup and Rs 5 lakh to the runners-up. Similarly, the best players of all disciplines will be given Rs 20,000 each. The best player of each game will get Rs 5,000 while an emerging player from Simara will also be honored with cash.