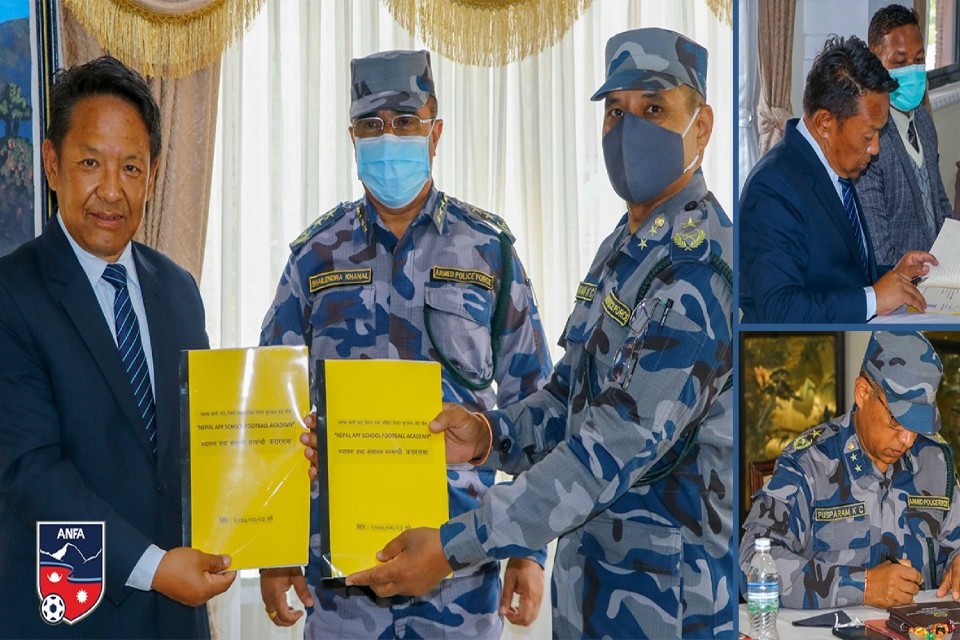 All Nepal Football Association (ANFA) and Nepal Armed Police Force (Nepal APF) have inked a six year deal to set up youth academy set up.

ANFA president Karma Tsering Sherpa and AIG at Nepal APF, Pushpa Ram KC signed the deal on Tuesday.

According to the deal, both parties have agreed to select U14 21 young players for Nepal APF and provide them football education. Both parties will cover the expenses of the players (Only 14) untill they graduate from high school.
"We are proud and delighted to announce the agreement with Nepal APF School to form an Academy. This a historic agreement to develop a healthy relationship that helps the development of players and coaches. This has been our goal in order to unlock huge potential of Nepalese football as we create a eco-system, " ANFA President Sherpa was quoted as saying.
Inspector General of Armed Police Force, Shailendra Khanal said, "APF school is delighted to partner with the ANFA. We look forward to working hand in hand with ANFA to promote talented youth players in the country."
"The link up provides us with the opportunity to take our young players to our senior team and to the national teams. This is a fantastic opportunity for us to benefit from the Academy. This will also help our young players to experience new & they can aspire to be a professional football player," added IG Khanal.

None of the Nepalese clubs have met AFC club licensing criteria and are unable to play AFC club competitions till 2021.
5th Jhapa Gold Cup: Satdobato Youth Club Vs APF FC