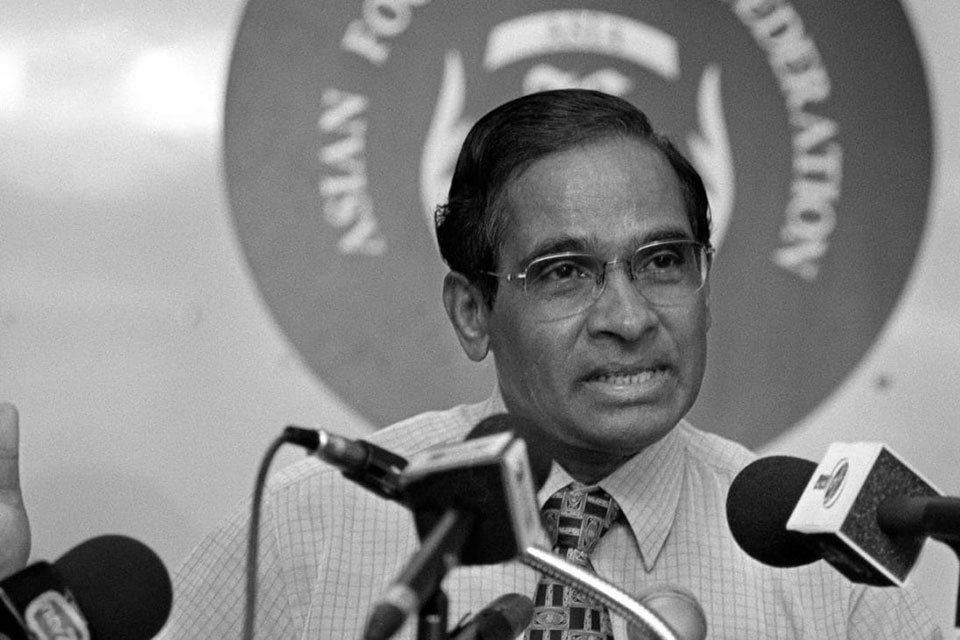 GoalNepal today paid tribute to Dato' Peter Velappan, the former AFC General Secretary, who passed away at the age of 83.

GoalNepal CEO Bikram Thapa said, "Velappan served Asian football with great passion and sheer professionalism. The news of his passing has shocked me and the Nepalese football community".

Thapa added, "During 2005, Velappan personally assigned me the duty of Media officer in AFC president's cup that Nepal hosted at Dasharath stadium. He was so supportive and professional.

"On behalf of Nepalese football, I send my sincere condolences to the bereaved family", said Thapa.

Born in 1935, he studied in the United Kingdom and Canada before becoming a teacher in Seremban and subsequently became Assistant General Secretary of the Football Association of Malaysia (FAM) in 1963.
He served as FAM Assistant General Secretary until 1980 as well as being Team Manager and Coach to the national team when it qualified for the Olympic Games in Munich in 1972.

In 1978, Dato' Peter became the AFC General Secretary during a time of rapid expansion and development for the Confederation and for football on the Continent, which hosted its first FIFA World Cup – in Japan/Korea in 2002 – during his time in office. He was Co-ordination Director for the Organising Committee and received FIFA's distinguished service award for his 30 years of valuable contribution to the beautiful game in 2002.
As the longest serving General Secretary in AFC history, he served under three AFC Presidents – Tan Sri Hamzah Abu Samah (1978-1994) and Sultan Ahmad Shah (1994-2002) both from Malaysia and Qatari Mohamad bin Hamman. Dato' Peter retired in 2007 but remained a strong advocate for grassroots football and a firm supporter of present AFC President Shaikh Salman.
His commitment to grassroots football led to a role at Vision Asia which was devoted to popularising the sport at grassroots across Asia.

Inputs from AFC