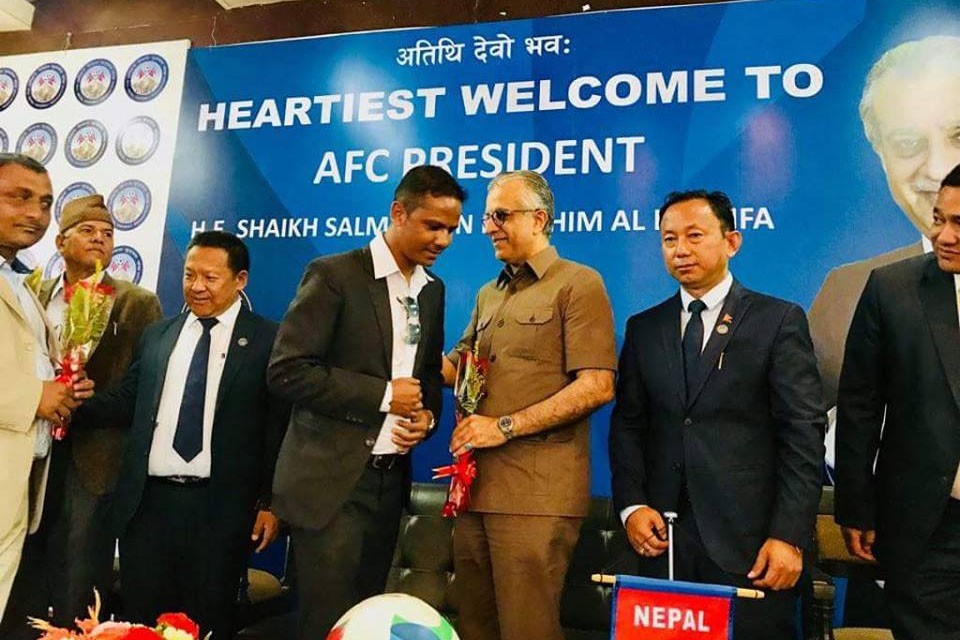 The Asian Football Confederation (AFC) President Shaikh Salman bin Ebrahim Al Khalifa concluded a successful visit to Nepal on Tuesday where he met with the newly-elected All Nepal Football Association (ANFA) President Karma Tsering Sherpa and the ANFA Executive Committee at the ANFA House in Lalitpur.
Addressing the ANFA Executive Committee, Shaikh Salman said: "This is my second visit to ANFA in a year and I continue to be amazed at the passion and love of the Nepalese people for football.
"President Karma Sherpa has received a strong mandate for the next four years and this ensures much needed stability for long-term football development planning.
"The football fanbase in this country is what we would like to see in all our Member Associations as making football the number one sport in all our Member Associations is one of our key Vision statements."
Shaikh Salman added: "The AFC is ever ready to support and assist the new ANFA team in their bold plans to revive the game. The starting of the league after a four-year gap is evidence of their determination to infuse life into growing and strengthening the game."
ANFA President Karma Sherpa thanked Shaikh Salman for the visit and said Nepal was ready to turn over a new chapter.
"We took over only a few months back and are now doing our best to lead ANFA through collective leadership with utmost emphasis on transparency and democracy.
"Apart from the development work, I sincerely appreciate the AFC's support during the difficult period of the governance crisis. Now we are all set to move forward."
In addition to football development activities in Nepal, the AFC, through its Dream Foundation, has successfully completed the rebuilding of the Sri Sethi Dewi Secondary School in the earthquake-hit region of Sindhupalchowk in Northern Nepal, which was inaugurated in March this year.

AFC
Look Of Dasrath Rangasala In COVID Pandemic