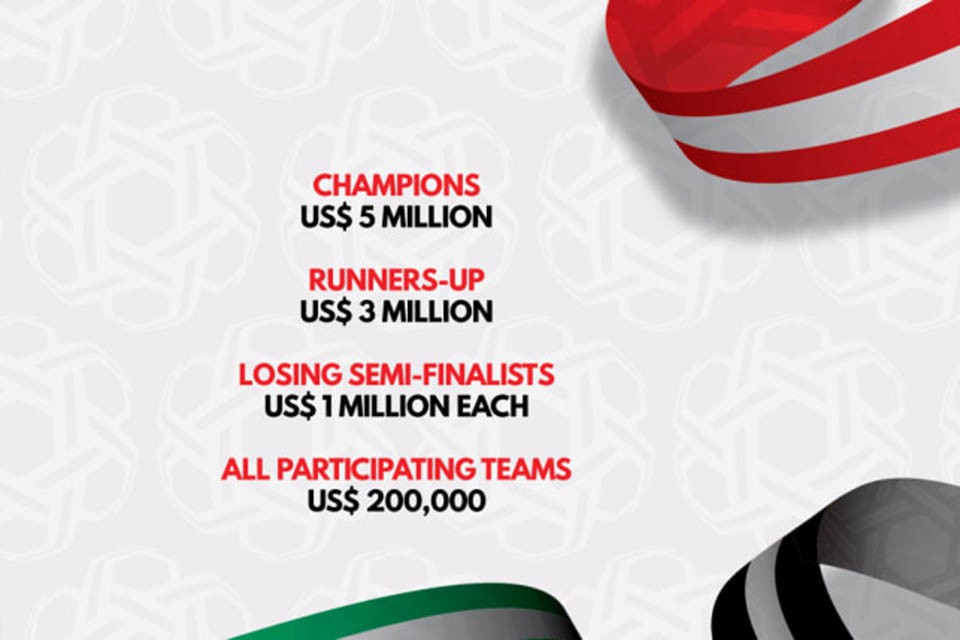 The biggest-ever AFC Asian Cup is set to become the richest-ever edition after AFC President Shaikh Salman bin Ebrahim Al Khalifa announced the introduction of USD$14.8 million in total prize money for the AFC Asian Cup UAE 2019.
The ultimate winners at the Zayed Sports City Stadium on February 1, 2019, will receive an impressive USD$5 million.
The AFC President, who made the announcement during the dazzling AFC Asian Cup UAE 2019 Final Draw at the United Arab Emirates' Burj Khalifa, said: "Tonight, we celebrate a new chapter in the glorious history of the Asian Cup here in the UAE.
"This is the second time the UAE has staged this competition and the fact that the competition has now doubled in size demonstrates how far Asian football has progressed in 22 years.
"In addition to more teams and more opportunities, the AFC wants to reward success. I am pleased to announce tonight that the prize money for the AFC Asian Cup UAE 2019 will total almost 15 million dollars and the winners of the AFC Asian Cup 2019 will collect 5 million dollars."
In addition to the purse prize for the winners, the AFC President also announced the runners-up will receive USD$3 million, with the two losing semi-finalists pocketing USD$1 million each. All 24 participating teams will also receive USD$200,000.
The prize money is just a host of enhancements introduced to strengthen the stature of Asia's most prestigious competition, which also has a new trophy for the first time since the inaugural edition in 1956.
The AFC President added: "I have no doubt that the UAE, one of the Continent's most dynamic and visionary countries, will be the perfect stage for this historic tournament.
"We are all determined that the AFC Asian Cup UAE 2019 will be the greatest tournament we have ever held. And tonight is the perfect way to kick off the new era of Asian football."