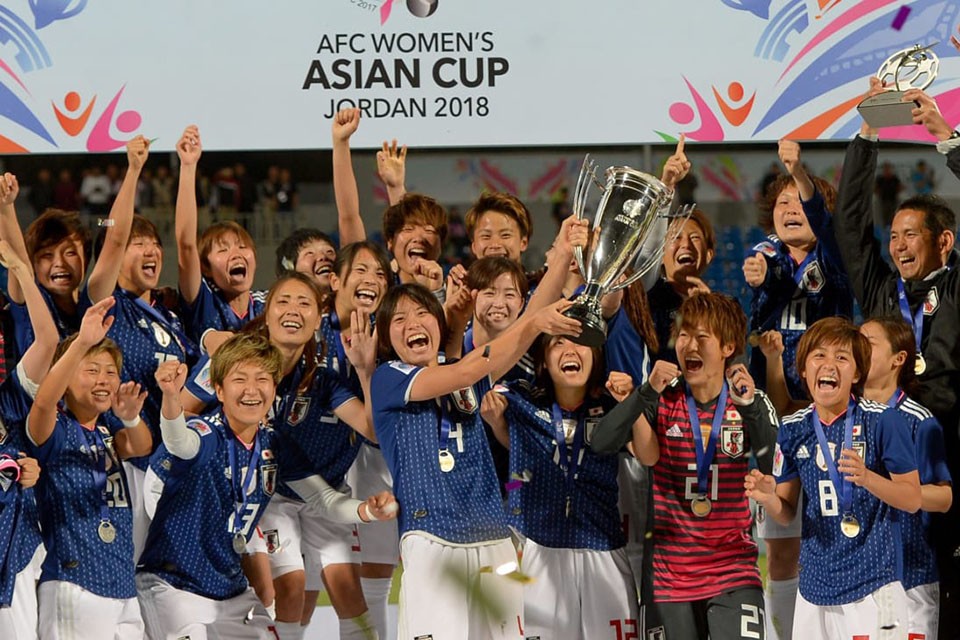 Amman International Stadium hosted a spectacular and entertaining final which showcased the best of the continent's women's football for the first time in West Asia.
The AFC President, who presented the new AFC Women's Asian Cup trophy to Japan captain Saki Kumagai, said: "It was fantastic to witness this world-class final in Jordan and I would like to offer my congratulations to Japan on their victory tonight. My appreciation goes also to the team behind the team and Japan Football Association for their preparation work which has been so evident here in Amman tonight.
"Runners-up Australia were outstanding opposition, ensuring a hard-fought match. I also congratulate all five AFC teams, Australia, China PR, Japan, Korea Republic and Thailand, who have now qualified to the FIFA Women's World Cup France 2019. During this tournament they have truly showed that women's football in Asia is going from strength to strength."
The AFC Women's Asian Cup, the world's oldest continental women's football competition, was organised for the first time in West Asia. Jordan provided the stage for Asian women's football - including some of the world's best players - to shine..
Offering his appreciation to the Jordan FA and the Local Organising Committee, Shaikh Salman said: "Jordan has been an excellent host to Asia's flagship women's football competition and the home team is an inspiration for all. They are football role models for girls and women not only at home but also in the West Asian region and beyond.
"I would like to thank the Local Organising Committee for its dedication and hard work which has enabled us to make history by bringing Asia's flagship women's national team competition to the West zone. We look forward to seeing the legacy of the tournament in growing numbers of girls and women taking up football."
The Nadeshiko survived a deluge of Australian shots at goal, including a saved penalty kick in the 15th minute, before substitute Kumi Yokoyama's superb strike turned the match in their favour with just six minutes remaining. The win means Asako Takakura's charges are the first team to win back-to-back Asian titles since DPR Korea in 2003.

AFC