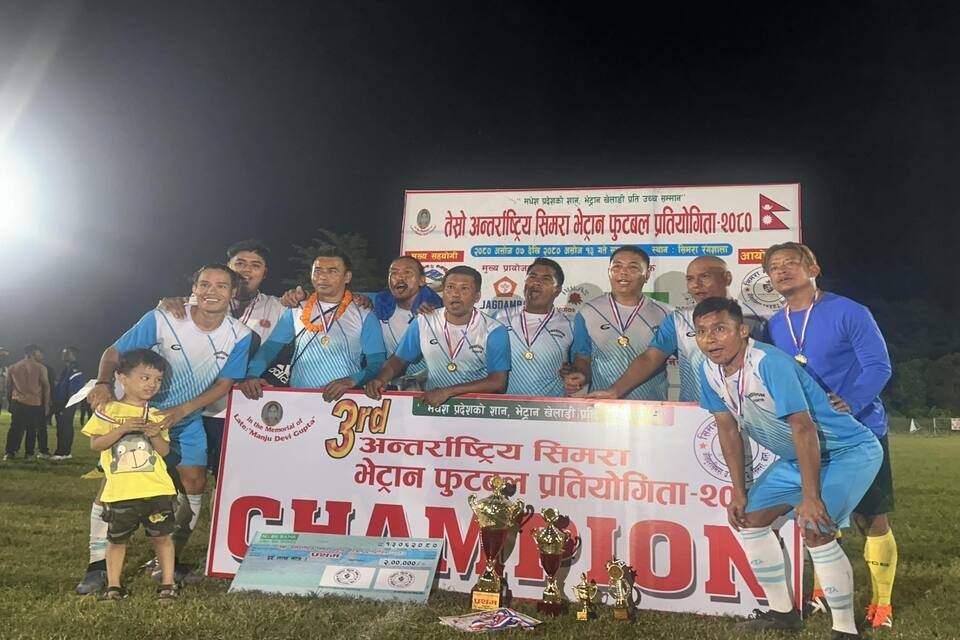 The Freedom Fighter Veteran Club of Kathmandu has won the title of the 3rd International Simara Veteran Cup Football Tournament by shocking the organizer Simra Veteran Club.
In the final match held at Simra Stadium on Saturday, Freedom Fighter won the title by winning 3-1 over the hosts in their first participation. Bhi Bahadur Shrestha, Kamal Bisht and Vikarn Shrestha scored one goal each while giving the freedom fighter title.
Bhesharaj Limbu scored a goal for the hosts. The title winner Freedom Fighter received two lakhs and the runner-up received one lakh cash. Gopichand Bhatt of the host club has been declared the best player of the tournament. Vikarn Shrestha, who scored 10 goals during the competition, was declared the highest scorer for the category award. He was also chosen as the man of the match in the final match.
Likewise, Uday Bahadur Gurung 'Kaka' of Freedom Fighters, best goalkeeper Mukund Shrestha of Freedom Fighters, Rajkumar Ghising of Freedom Fighters, best coach Suraj Shrestha of Freedom Fighters, best defense organizer Vishnu Sunar of the club have been declared as the best player above 50 years.
Madhesh Province Ministry of Physical Infrastructure Development Krishna Prasad Yadav, former Provincial Assembly Member Shobha Lama, Nepali Congress General Committee Member Shyam Babu Gupta, Rautahat City Mayor Shyam Yadav, Congress Madhes Province Deputy Chairman Chandrashekhar Yadav, Regional Assembly President of Congress Lokesh Singh, Director of LS Neuro Hospital Virgunj Ram Pravesh Prasad Kurmi, Competition Coordinator Hari Choudhary, Organizing Club President Rajkapur Raut and others distributed the prizes.
Veteran player Ganesh Sunuwar was honored at the closing ceremony. self In memory of Manjudevi Gupta, 11 teams from Nepal and India participated in the competition which started from October 7th. Pradeep Gautam facilitated the closing program under the chairmanship of club president Raut.