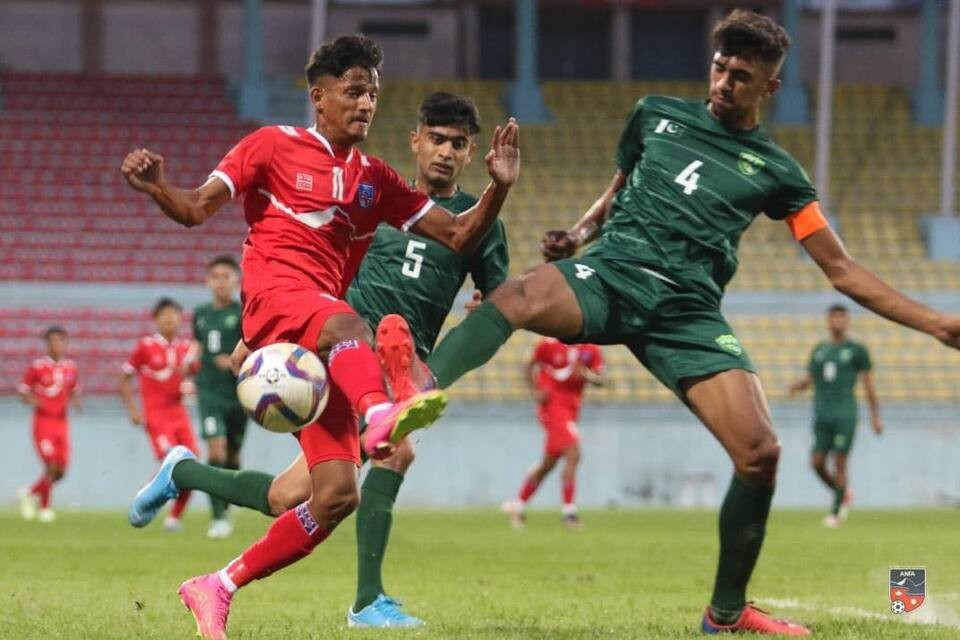 In a gripping showdown at the SAFF U-19 Championship 2023, Pakistan emerged victorious over Nepal with a final score of 1-0.

The match held at Dasharath stadium showcased remarkable performances from Pakistani colts.

Nepal's goalkeeper, Jiyarath Sheikh, proved to be a stalwart guardian for his team and nation throughout the game, making several crucial saves that kept Nepal in contention.

Pakistan could have scored early goals but they missed three great goal scoring chances.

The match's first significant opportunity for Nepal came in the 12th minute when Nepal's Samir Tamang found himself with a clear chance to score, but his attempt narrowly missed the mark, leaving the fans at the edge of their seats.

Pakistan responded with a spirited display, creating open challenges for themselves around the 35-minute mark, but the elusive goal remained just out of reach.

As the clock ticked towards the end of regulation time, the tension in the stadium was palpable. It was the Pakistan team that eventually broke the deadlock, scoring the decisive goal in the 75th minute Score by Ali Zafar.

Despite their best efforts, Nepal couldn't find the equalizer, and the final whistle marked Pakistan's triumph in the championship.

SAFF U18 Championship: Pre-Match Press Meet In Kathmandu