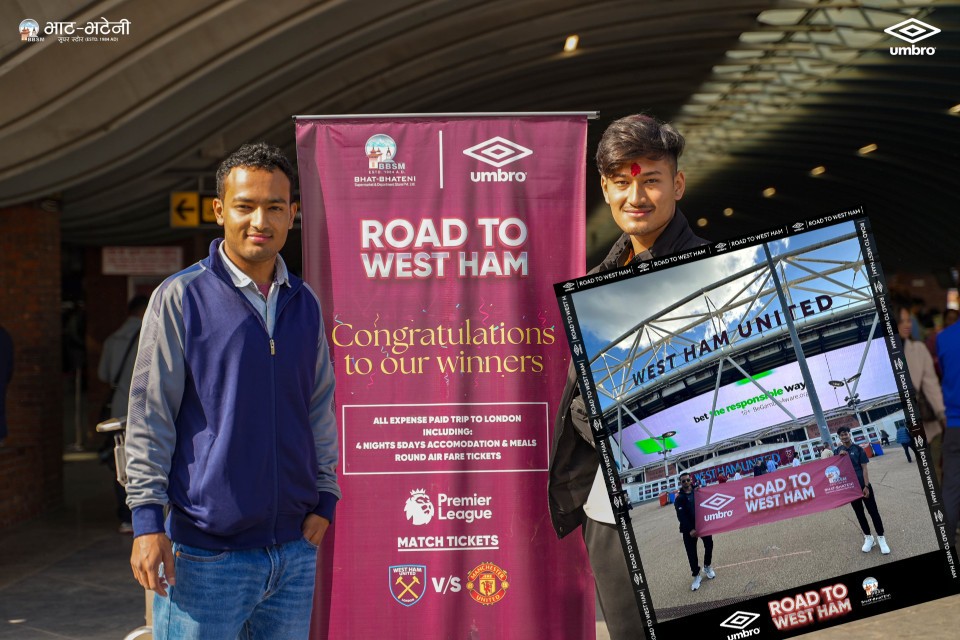 Bhat Bhateni Supermarket and Departmental Stores, in collaboration with Umbro, the renowned football and lifestyle brand, said they are delighted to announce the successful completion of the "Umbro: Road to West Ham" campaign.

The campaign offered two fortunate winners the opportunity of a lifetime to witness the thrilling match between West Ham United and Manchester United at the iconic London Olympic Stadium.

The winners, Anmol Shrestha (Bhaktapur) and Sujan Regmi Chhetri (Pokhara), were selected through a lucky draw conducted across 14 Bhat-Bhateni stores where Umbro products are available.

From May 5 to May 10, they traveled on an all-expenses-paid itinerary that featured round-trip airfare, luxurious accommodation for 4 nights and 5 days, delicious meals, and a memorable experience at the Ultimate Premier League tournament. Umbro products are now officially available at 15 Bhat Bhateni stores across Nepal (including newly opened store: Birgunj), allowing customers to access the brand's high-quality football and lifestyle offerings.

The campaign ran between 27th January 2023 – 30st March 2023 in 14 Bhat Bhateni Supermarket and Departmental stores across Nepal.