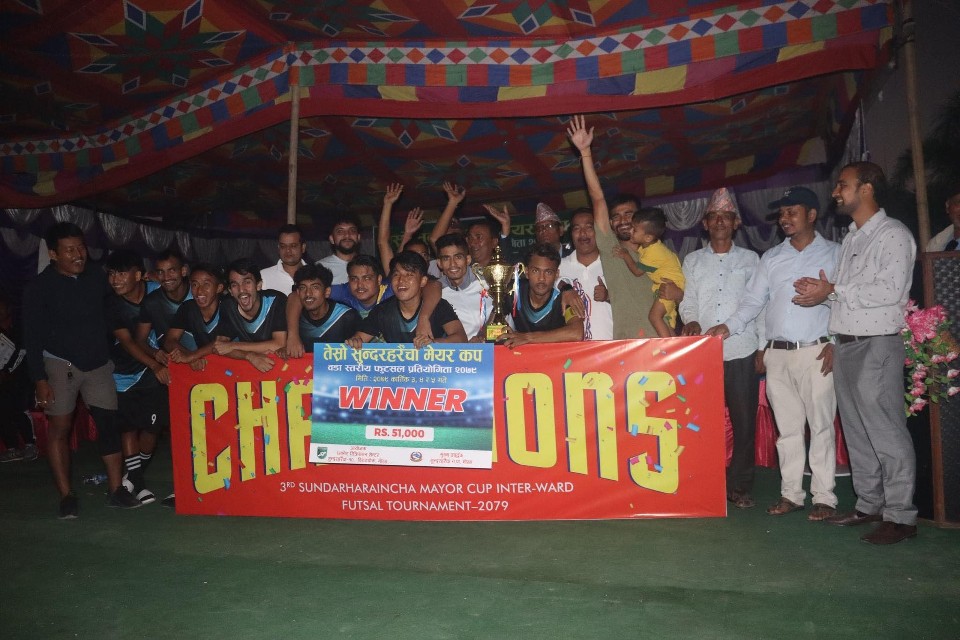 Ward No. 10 have won the third Sundararaincha Mayor's Cup Futsal Tournament. Ward No. 10 won by defeating Ward No. 7 in the final match on Saturday.
The winning team received a cash prize of 51,000 rupees. The runners-up Ward No. 7 received 25,000 rupees cash. Similarly, Ward No. 9, which finished third, received Rs. 5,000.
Suresh Khatri was the best player in the tournament. The best goalkeeper award was given to Manoj Pariyar of Ward No. 7 and the emerging player award to Yogesh Limbu. The best player was awarded a trophy and certificate along with Rs 1,500 and the best goalkeeper and emerging player were awarded with a trophy and certificate along with Rs 1,000 in cash.
Speaking at the closing ceremony of the tournament, Chief Guest Mayor Kedar Prasad Guragai said that the tournament is a matter of pride for young players and sports lovers. He said that the city has arranged a budget along with various programs in the sports sector and will support the sports sector.
Sundarharaincha Municipality was the main promoter of the competition which started on Thursday under the organization of Planet Recreation Center. The 12 wards of Sundararaincha were divided into 4 groups and played on the basis of the league and knockout.
Meanwhile, Sundarharaincha Municipality won the friendly futsal competition between Sundarharaincha Municipality and Belbari Municipality on Saturday.