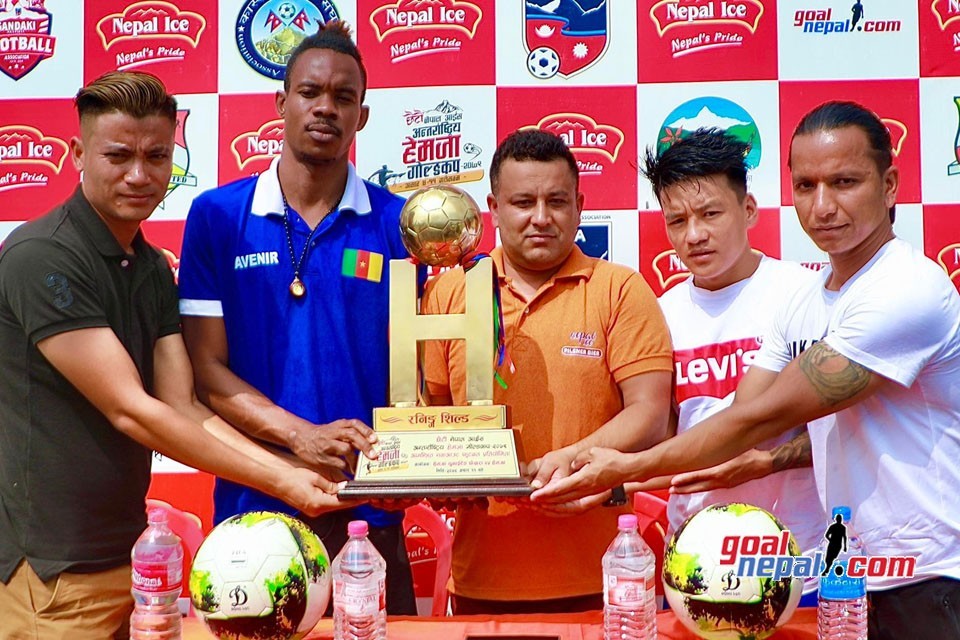 In the final of the sixth Nepal Ice International Invitational Hemja Gold Cup held in Pokhara, Cameroonian Club Avenir FC and Hemja United are facing each other today. Organized by Hemja United, the match will be held at Gaurishankar Stadium in Hemja, Pokhara.
Speaking at the press conference before the final on Friday, Hemja United coach Suvarna Jung Karki said that they wanted to play the final with Avenir Club. He said that Avenir being a foreign team with physical gameplay, they will also gain experience playing against them.
Hemja player Kamal Thapa Magar said that they will play to win. He said that the team is in a good shape.
Avenir's coach Aashik Thapa Magar responded that the final game would be a game of equals. "Hemja are a good team but we'll stick to our strength", he said.
Avenir skipper Kovassi also expressed his team's intent to win. Avenir just recently lifted Bhaluwa Gold Cup title in Sunsari.
The tournament consisted of eight teams in the beginning and it's down to just two now.
The winners of the tournament will receive six lakh rupees while the runners-up will receive three lakh rupees. The best player of the tournament will receive fifty thousand rupees.
POKHARA STADIUM - 10% WORK IS STILL LEFT