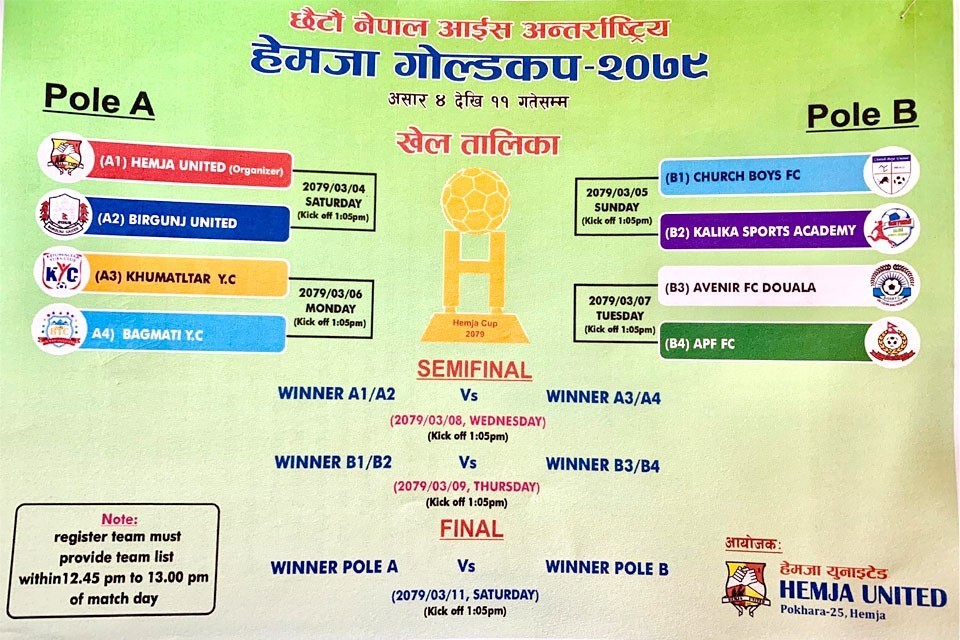 The sixth Nepal Ice International Hemja Gold Cup Football Tournament is starting from Saturday at Gaurishankar Sports Ground in Pokhara Metropolitan City ward no 25. Eight teams are participating in the Sixth International Hemja Gold Cup-2079 Invitational Football Tournament organized by Hemja United Club.
In the inaugural match of the competition, Hemja United and Birgunj United will face each other, club president Indra Kunwar informed.
Departmental clubs APF, Church Boys, Avenir FC, Cameroon, Khumaltar, Kalika Sports, Chitwan, Bagmati Youth Club, Sarlahi, Birgunj United and organizers Hemja United are participating in the competition.
The winners of the competition will receive a shield, medal and certificate along with Rs 6,00,000 in cash while the runners-up will receive a shield, medal and certificate along with Rs 300,000 in cash. The best player will receive a trophy and Rs 50,000.
The top scorer will get Rs 25,000 and the best defender, midfielder, forward, goalkeeper and emerging player will get Rs 20,000. The most disciplined team will receive Rs 25,000.
According to the president of the club, it has been very difficult to find a supporter as Corona has affected the entire region for two years. The main objective of the competition is to bring the club into operation of the football academy. Hemja United is also the Kaski District League Champion.
Hemja United plans to produce international level players from Hemja and also to take initiative to develop every school within Pokhara-25 as a sports hub.
GoalNepal will broadcast the tournament LIVE.
POKHARA STADIUM - 10% WORK IS STILL LEFT