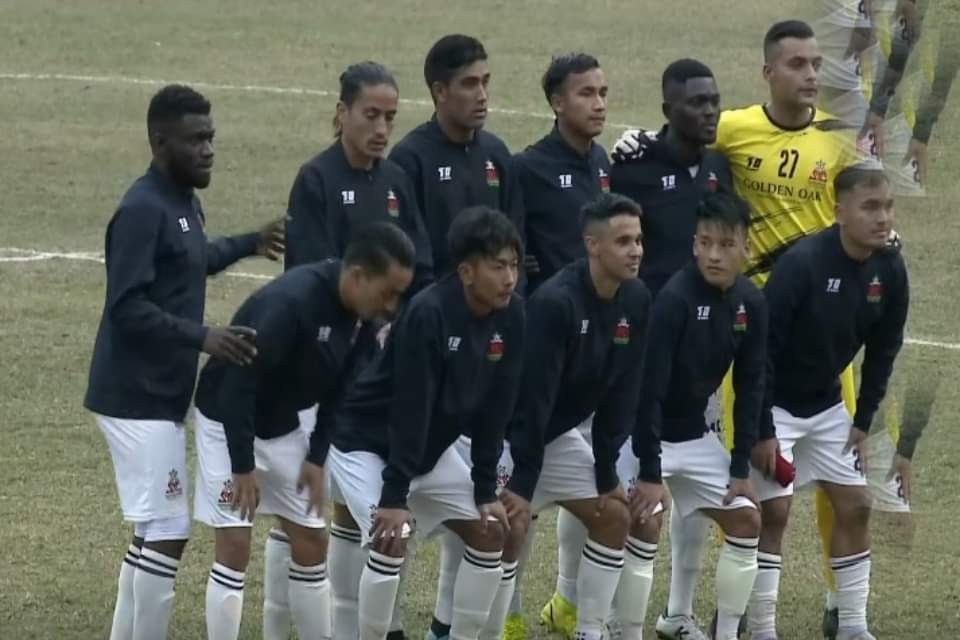 Satdobato Youth Club beat APF Football Club with a big margin at the second match of Gameweek three in the A Division League.
Martin Ajayi scored a hat-trick for Satdobato as they toppled APF 4-1 to move to top of the table with seven points from three matches.
APF had to switch their GK in the early part of the half after Amrit Chaudhary landed awkwardly and was replaced by Dil Kumar Limbu.
It was after the 40th minute that things started happening. Man Bahadur Tamang's cross in the box fell twice for SYC in the 40th minute but the substitute GK Dil Kumar Limbu made two world class saves to keep them SYC at bay. Surely the moment of the first half.
But just two minutes later, a deflected ball in from Bikey Tamang fell to Martin Ajayi at the penalty spot which he put on the back of the net. He looked offside, but the assistant put his flag down.
Abhisekh Baral, the SYC GK made a brilliant fingertip save to keep his team's lead at 1-0 from a point blank shot from Awas Lamichhane.
In six minutes of stoppage time, Martin Ajayi doubled the team's lead with a brilliant anticipation off a deflected cross from the left.
The start of the second half was eventful. APF cut down the deficit to one goal through a Bikky Gurung goal from a tight angle.
But Satdobato restored their two goal lead almost instantly in the 50th minute through Sushil Rai. Martin Ajayi added his team's fourth and his third goal in the 58th minute to take the score to 4-1.
APF looked totally lost in the final third. Their goal came out of nowhere but other than that, they couldn't make much use of the ball. They stay pointless after three games. With two teams getting relegated, things don't look good for APF.
They will face Three Star Club next while Satdobato will play against New Road Team in the fourth gameweek.