Province 2
Bara: Inter School Grassroots Football Kicks Off
Bara: Inter School Grassroots Football Kicks Off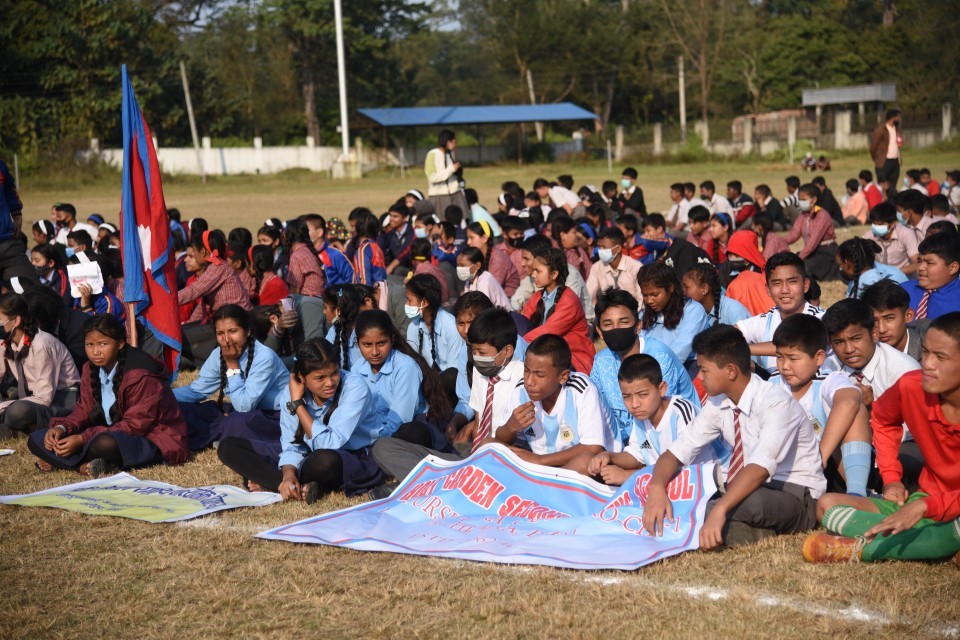 Fatehpur has emerged victorious in the inaugural match of the inter-school grassroots football tournament which started on Thursday in Simara, Bara.
Nepal National Secondary School, Fatehpur defeated St. John's School, Hulas 2-0 in the first match of Jeetpur Simra Sub-Metropolitan Level Grassroots Football.
Anish Chaudhary and Aadesh Chaudhary scored one goal each for Fatehpur in the match played at Simara Stadium. Aashiq Rai of Fatehpur was declared Man of the Match.
There will be two games on Friday in the tournament. The first match will be between Ex-Servicemen Academy and Nepal National Secondary School Auraha while the second match will be between Lotus Academy and St. Alphonsabs.
Earlier, the competition was inaugurated by Saraswati Chaudhary, Deputy Chief of Jeetpur Simara Sub-Metropolis and Upendraman Singh, Vice President of All Nepal Football Association. Inaugurating the competition, Deputy Chief Chaudhary said that the sub-metropolis has given priority to sports activities. She also expressed her commitment to support grassroots football.
Speaking on the occasion, ANFA Vice President Singh, who was also the Grassroots and Youth Development Coordinator, said that grassroots football would be fruitful for the country.
Stating that the concept of grassroots has been introduced with the aim of producing good players by training football from the grassroots level, Singh said that ANFA aims to train about 35,000 students across the country simultaneously.
Twenty-four schools within the sub-metropolis are participating in the competition organized by the Grassroots Foundation. The winner of the competition will get Rs 20,000 and the runner-up will get Rs 10,000.