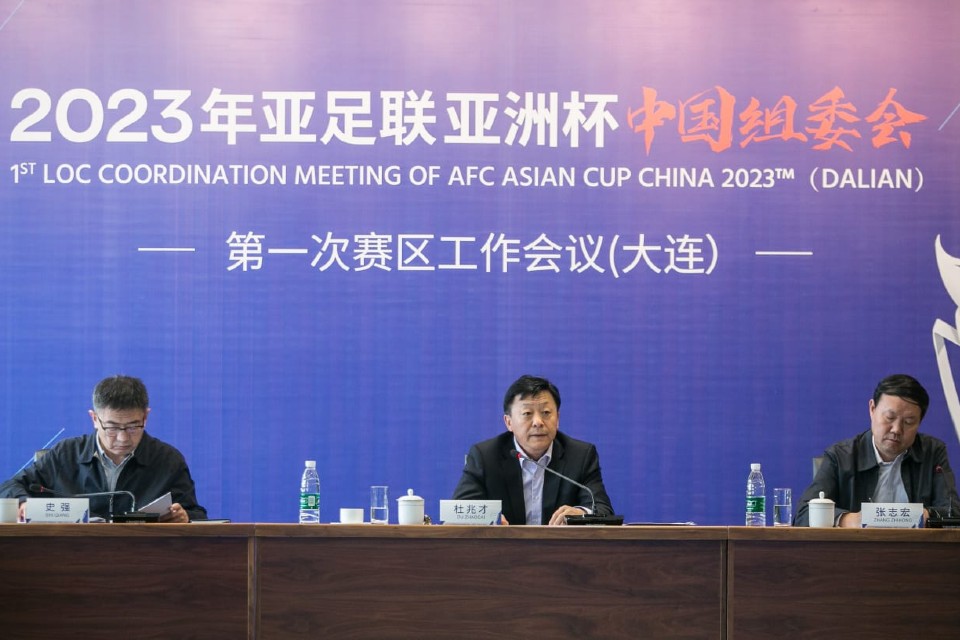 The Local Organising Committee (LOC) of the AFC Asian Cup China 2023 held its first meeting in Dalian, Liaoning province on Saturday.

In a special video message to participants, the Asian Football Confederation (AFC) General Secretary, Dato' Windsor John, said: "The last time the People's Republic of China hosted the AFC Asian Cup in 2004, it was staged in just four cities. At the time, Asia's top 16 teams competed in 32 matches, which is a stark difference to the 24 teams who will be competing across 51 matches in 2023.

"Adding to the challenge, for the first time in the tournament's history, we will be hosting the competition across 10 cities so we can expect the AFC Asian Cup China 2023 to be our most demanding edition to date.
"On behalf of the AFC, I wish the LOC the very best and success in performing their duties. Let's commit to staging a truly unforgettable tournament that will set the benchmark for all future editions of the AFC Asian Cup."


Meanwhile, LOC Executive Chairman, H.E. Du Zhaocai, who is also the Vice Minister of the General Administration of Sport of China and a member of the FIFA Council, added: "Since preparations started in January this year, under the guidance of the AFC, we have achieved great progress despite the COVID-19 pandemic, as the design schemes of nine stadiums have been confirmed by the AFC.
"The AFC Asian Cup is the top football event in Asia. Its great influence can cultivate youth interest in football and expand the youth football population in China PR. In the next phase, the local organising committee will create opportunities for more young people to have close contact with the tournament in all host cities through various channels and activities."China PR was awarded the hosting rights of the 2023 AFC Asian Cup at the AFC Extraordinary Congress in Paris on June 4, 2019. Since then, the AFC and LOC have confirmed the 10 host cities for the AFC Asian Cup China 2023 which include Beijing, Tianjin, Shanghai, Chongqing, Chengdu, Xi'an, Dalian, Qingdao, Xiamen and Suzhou.