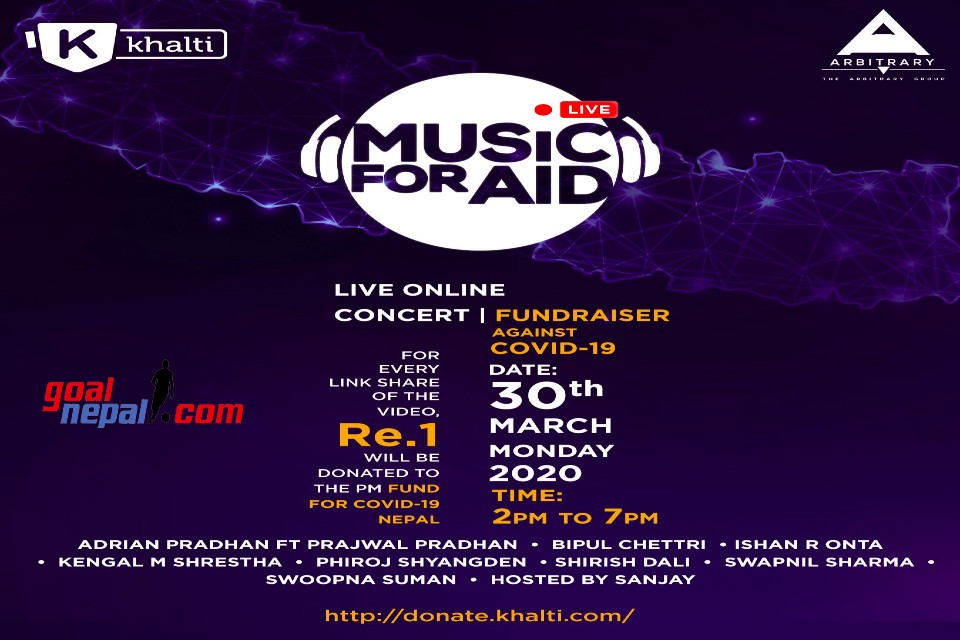 Under the current given circumstances, uncertainty and fear has shadowed everyone in the world.

So, The Arbitrary Group and Khalti have come together along with most prominent Nepali musical figures to promote peace, unity, creativity and humanity with a digital concert "Music For Aid".
GoalNepal has joined the program as a LIVE broadcasting partner.

It will go live on The Arbitrary Groups' , Khalti's, respective artists' Facebook pages and also through GoalNepal social media platform.
Performing Artist

Adrian Pradhan Ft Prajwal Pradhan | Bipul Chettri | Ishan R. Onta | Kengal M. Shrestha | Phiroj Shyangden | Shirish Dali |Swapnil Sharma | Swoopna Suman
We will be donating Rs. 1 for each link share of the video, which will be donated to the PM's fund for Covid-19.

Web Concert Time

From 2PM to 6 PM - 4 Hrs
NOTE: To Contribute

Step 1: Share the live video link with #StaySafe #StayHome #GoCashLess
Step 2: Khalti and The Arbitrary Group will donate Rs 1 per share to PM's Covid fund to help fight the virus in Nepal.
Thank You For Your Support
GoalNepal CEO Bikram Thapa's Interview With Radio Thaha Sanchar