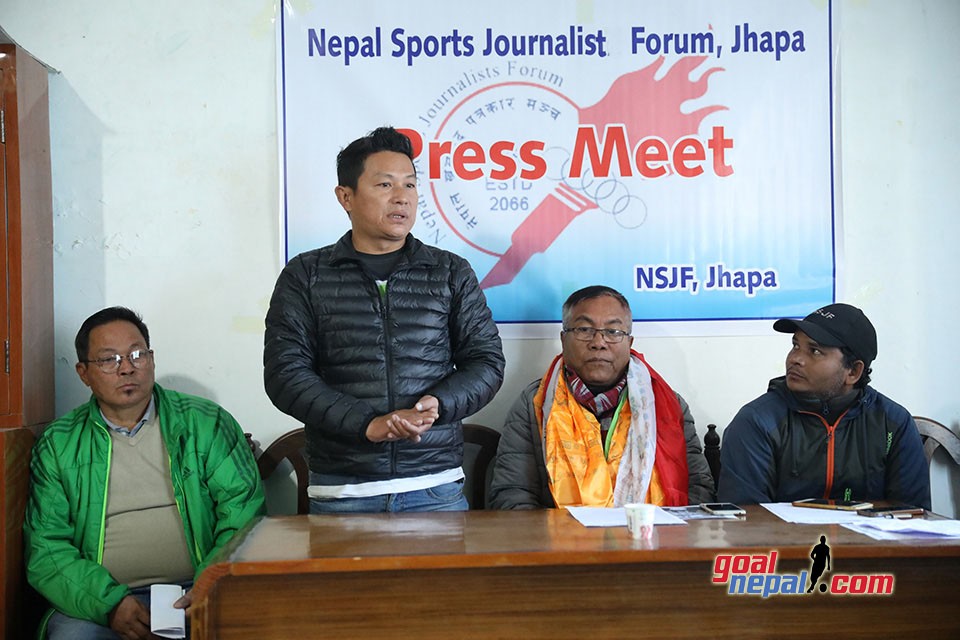 Twelve players and three teams have been nominated for different categories of the first ever Jhapa Sports award scheduled on Magh 7.
The award program coordinator Parbat Portel announced the nominees in a press meet held at Birtamod, Jhapa on Sunday.
Newly elected Jhapa DFA President Bhagirath Ale and special guest ANFA Eastern Region President Jal Kumar Gurung were also present in the press conference.
Chief guest Mr. Bhagirath Ale lauded the effort of NSJF Jhapa for organizing such a motivational event for players, coaches and teams. He also assured that to provide enough support to the sports award next year from the DFA.
Three players have been selected for four category each. The four award winning players and a team will be honored with fifteen thousand rupees each.
Footballers, Bishal Rai B and Yogesh Gurung, and chess player Bhupendra Niraula have been nominated in best player (male) out of the eight players.
In best player(female) category, cricketer Rubina Chhetri, Karate player Esther Rai and boxer Sulap Magar are nominated from the four enlisted players.
Out of the 10 players, Devendra Tamang(football), Pujan Uperkoti(football) and Sabnam Rai(cricket) have been nominated for youth player of the year award.
Football coach Sanjay Rai, Cricket coach Manoj Katuwal and Karate coach Sita Rai are nominated for the best coach of the year award from the seven selected coaches.
Jhapa XI FC, Milan Cricket Club and Birtamod United FC have been nominated for People choice's award.
NSJF Jhapa President Ramesh Samadarshi said that they had tried their best to include all categories. He also explained that the reason behind more number of nominees from football and cricket. He clarified that they had to do it on the basis of best performance in tournaments held in 2073.
JALTHAL FC JHAPA ENTERS SFs 2nd BHAGIMAN MEMORIAL CUP