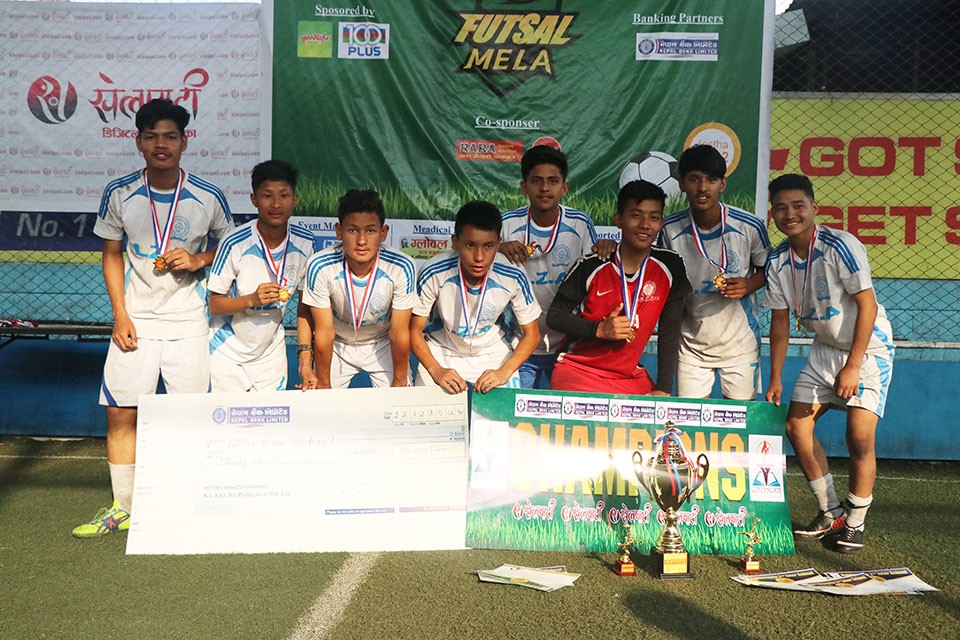 Learning Zone Academy clinched the title of 2nd Golden Gate Inter-school Futsal tournament at National Sports Center, Chyasal on Saturday.
In the final match, Learning Zone Academy defeated Career Building Academy 2-1.

Prabin Lama and Pramit Magar scored apiece for the winners.
Aakash Shah scored the consolation goal for Career.
Champions won 30 thousand rupees while runners-up got 20 thousand rupees.
Ajij Gurung(Learning), Aakash Shah (Career), Ayush Shrestha(Career), Prabin Lama(Learning) and Ashish Dahal(Sunshine) got the best goalkeeper, defender, midfielder, forward and coach award.
Former Nepal International and former national team coach Raju Kaji Shakya and Nepal Bank Limited CEO Shikhar Nath and Nepal International Bikram Lama jointly handed over prize to the winners.
32 teams took part in the 2-day event that was organized by Kakhara event management pvt. ltd..