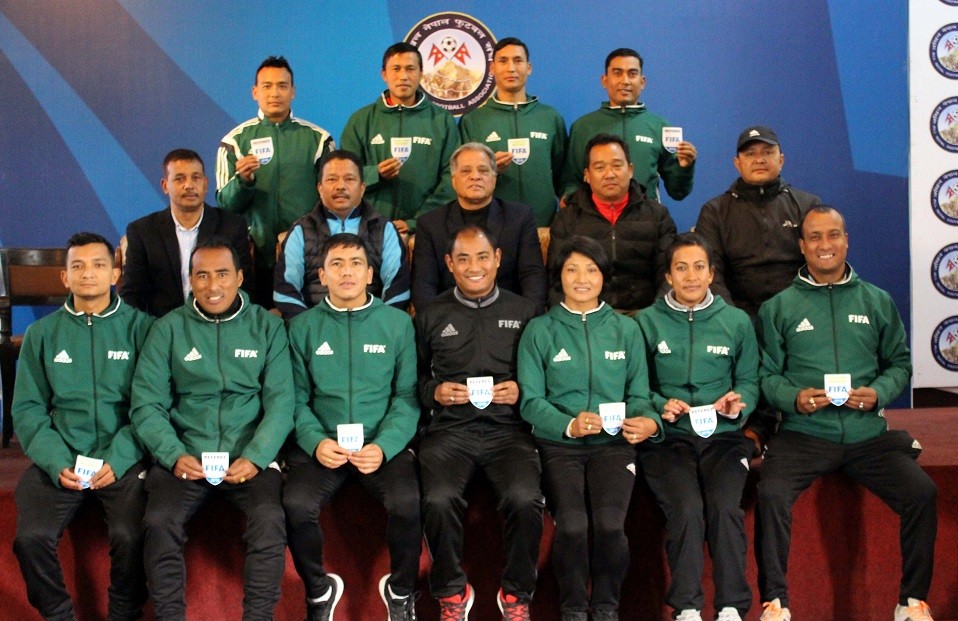 Two ANFA referees, Shrawan Lama and Kabin Byanjankar have been promoted to FIFA referee.
ANFA provided FIFA badges (for the year 2018) to newly promoted referees and those who have maintained their status.
ANFA President Narendra Shrestha, ANFA Referee Association's chairman Surendra Sikhrakar and ANFA officials distributed FIFA badges to the referees on Sunday.
ANFA didn't nominate the name of senior referee Laba Khatri and referee Bikash Mahat to FIFA. Referees need to go through theoritical and practical exams every year.
FIFA Referee: Sudish Kumar Pandey, Nabindra Maharjan, Sraban Lama (made comeback after two years), Kabin Byanjankar, Asmita Manandhar (Women).
FIFA Asst. Referee: Bina Shrestha (Women), Padam Bahadur Bhujel, Nani Ram Thapa Magar, Prakash Shrestha, Rojen Shrestha, Madhav K.C, Yunal Malla
Latest Update From Dasharath Stadium