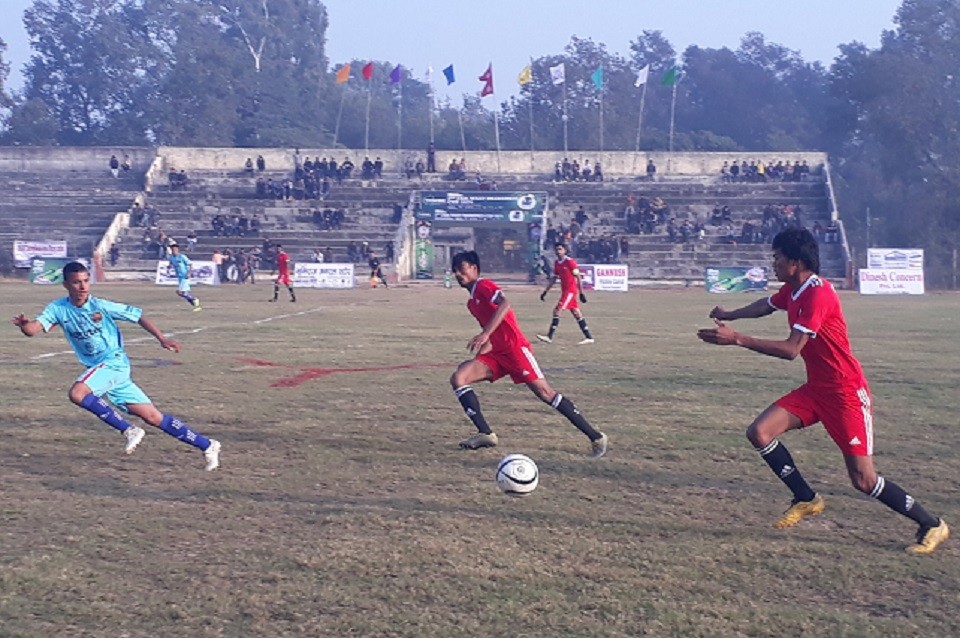 Sports School Club, Dang and New Buddha Youth Club have entered quarterfinals of Galaxy Public School Far West Pashupati Cup Football tournament.
In the first game played on Sunday in Dhangadi, Dang's Sports School thrashed Dhangadi's Hasanpur Youth Club by a hoping margin of 8-0.
Ganesh Nepali scored five goals alone while Hasta Raj Giri scored a hat-trick. Ganesh was named man of the match for his fivegoals. He scored in 19, 30, 51, 57 and 60 minutes to get the five goals. Giri on the other hand scored in 17, 48 and 52nd minutes.
In the second match, New Buddha Youth Club from Dhangadi won the game by 6-4 against Mangal Youth Club.
Sundar Ghising scored a hat-trick for New Buddha, and was named man of the match. Laxman Shahi, Suraj Shahi and Walter Chaudhary scored apiece for the winning side. For the losing side, Binod Chaudhary, Arjun Chaudhary and Yogendra Chand scored apiece. another goal was scored in an own post.
This has completed the teams to play in quarterfinals and beginning from tomorrow, quarterfinals will start.

Far Western Khaptad Gold Cup: Far Western Vs Chyasal Youth Club Spot Kick Battle - VIDEO