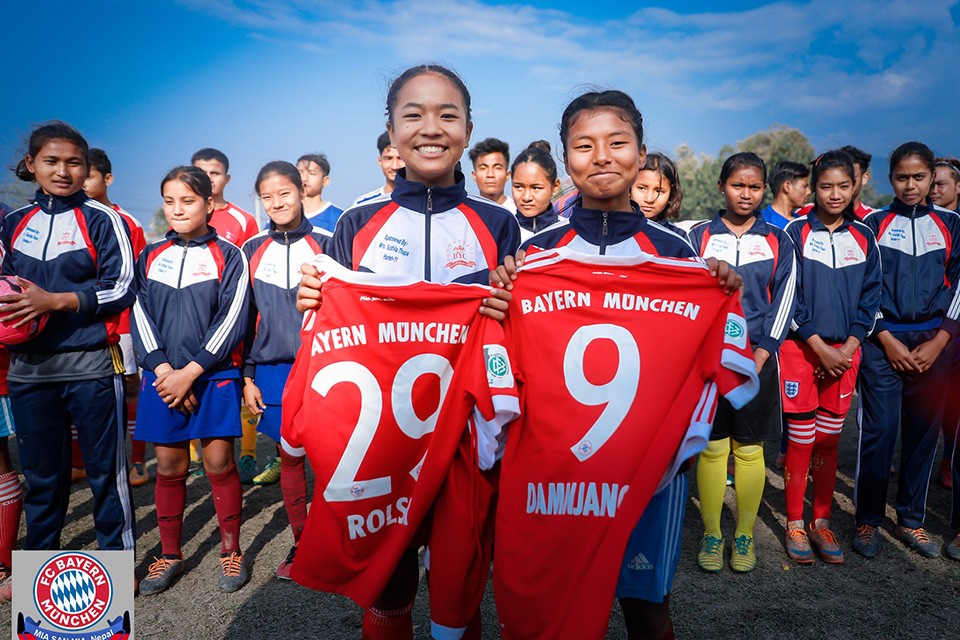 The official supporters group of FC Bayern Munich, Bayern Munich fan club in Nepal, "Mia San Mia Nepal" has recently made a trip to the southern Terai belt of Nepal (on 15th February, Friday) to distribute in Kind donation received by FC Bayern Women Team.
The team of nine including ANFA's international relations head and Mia San Mia Nepal's chairman Mr. Nabin Pande, ANFA Central committee member Mr Dawa Lama, ANFA Audit compliance Head, Mr Dipak Khati, Kathmandu district sport development Vice President Mr Badri Bhattarai, Member Mia San Mia Nepal, Mr Prebik Roller, MS. Arati Lama,Dinesh Bikram Shah, Saroj Baizu, Dilli Ram Poudel reached Bagmati municipality, Sarlahi to hand over gears sponsored by Bayern Munich women's team.

The team was welcomed by Bagmati Municipality ward Chair Mr. Deepak Lama, Lila Moktan,Deputy Chair of Bagmati Municipality and Chair person of Bagmati Municipality Mr. Bharat Thapa and Bagmati Club Chiar Mr Kismat mainali.
The team from Kathmandu interacted with the players, coach and officials from the Bagmati Municipality. Welcome program for the guests was arranged which was followed by the speech from the municipality officials and Bagmati Youth Club representatives.
ANFA head of international relationship and FC Bayern Fan Club's chairman, Mr. Nabin Pande was amazed to see support of local people towards the game.

He said that he was happy about the initiation of women's football in Bagmati Municipality which really looked like a distinct effort comparing to other places throughout the country and is looking forward to support the club in the future too.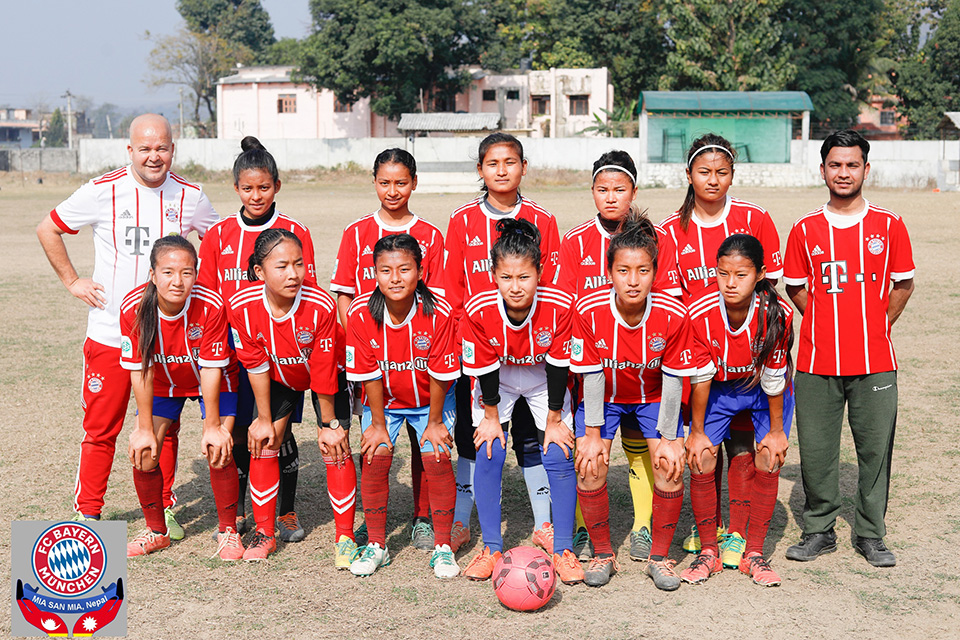 The visiting team handed over FC Bayern Women team gears to the players. The gears that were sent to Nepal were personally packed by the women players from Bayern Munich.

The enthusiastic young girls also played a friendly football match with the guests.
Bagmati Youth Club representative Mr. Deepak Lama expressed his pleasure and gratitude to FC Bayern and Mia San Mia Nepal for the support.