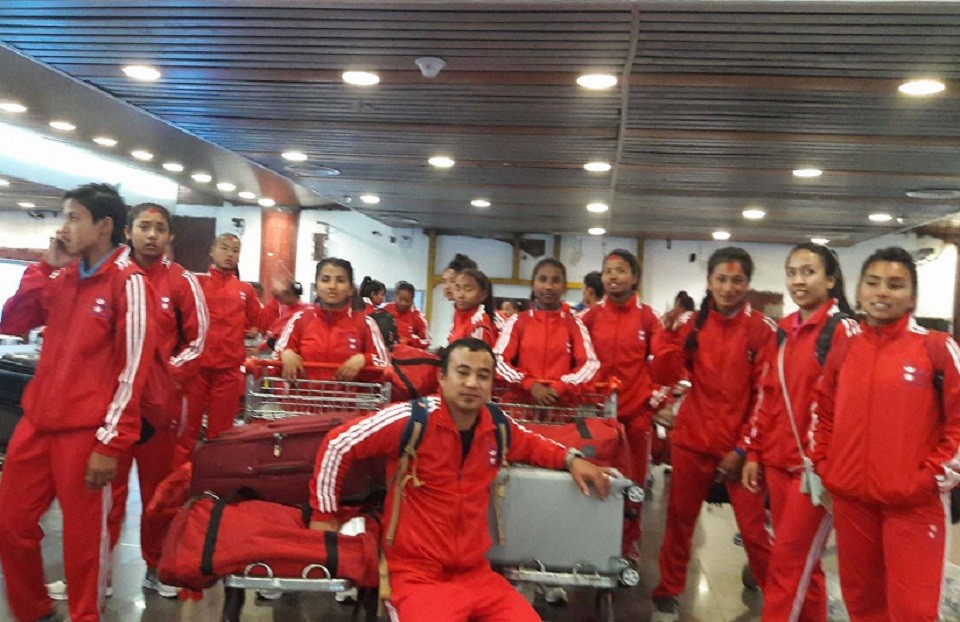 Nepal national U15 girls team has safely landed Dhaka, Bangladesh to take part in SAFF U15 girls championship.
India, Bangladesh, Nepal and Bhutan are participating in the event, which will start from December 17.
India will meet Bhutan while Bangladesh will play against Nepal in the opening day.
On December 19, Bhutan will play against Bangladesh and Nepal meets India.
On December 21, India plays against Bangladesh and Nepal meets Bhutan.
Final top two teams from the group will play in the final on December 24.
Squad:
Kareena Dahal, Bitisha Rajbanshi, Puspa Gurung, Sarishma Thapa, Manamaya BK, Sushma Rai, Surakshya Singh, Saraswoti Hamal, Preeti Rai, Ashmita Chaudhary, Muna Magar, Nikita Thoker, Sabita Rana Magar, Sushma GT, Anjali Chand, Ashmita Ranpal, Nikita Dhamal, Supriya Rajak, Riya Banu, Ashmita Gurung.
Head Coach: Ganga Gurung
Coach: Paras Chaudhary
GK coach: Binod Dangol

Team Manager: Bimala Paudel

(Pic: NSJF)
Anu Lama Wants To Become A Coach