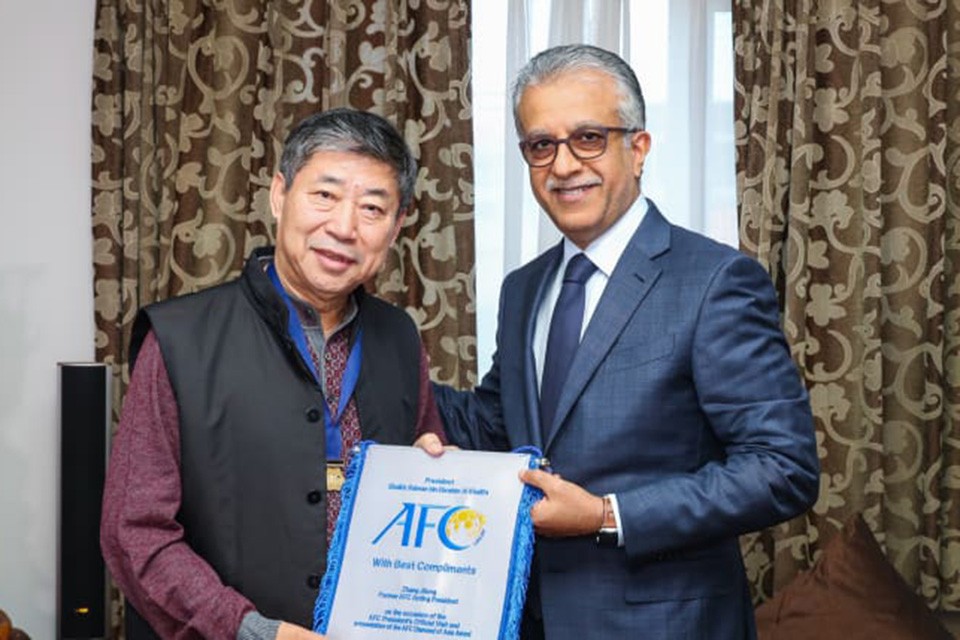 Zhang Jilong of China PR is the recipient of the AFC Diamond of Asia Award 2018 for his faithful servitude of more than 25 years to Asian football.
AFC President Shaikh Salman bin Ebrahim Al Khalifa recently presented the award to Zhang Jilong in Beijing.
The AFC's top accolade is the perfect recognition to a man who brought calm and peace to the Confederation at a critical point in its history and is true recognition of his service to football.
Through his tireless devotion, Zhang Jilong has been instrumental in raising the standards of football in the Continent.
Born on February 9, 1952 in Yantai City in Shandong province, Zhang has dedicated more than four decades of outstanding service to sport and football.
He graduated from the Beijing International Studies University in 1975 and joined the Chinese Sports Commission. He was the Executive Secretary of the Chinese Football Association in 1979 before becoming its Deputy General Secretary and Vice-President.
Previously he had worked in the international department of the Chinese Sports Commission – spending several years in Africa. As Director of the Sports Department for the Beijing Organising Committee for the 2008 Summer Olympic Games, the world of sport has benefitted from his expert counsel.
He joined the AFC in 1990 as a member of the AFC Rules and Regulations Committee. And Zhang's astute leadership was invaluable in nearly every aspect of football development.
A distinguished and loyal servant to the AFC, he subsequently served as Chairman of the AFC Finance and Marketing, Technical and Competition Committees as well as the Organising Committee for the AFC Asian Cup.

He was the AFC Senior Vice-President in 2002 and under his guidance as Acting President of the AFC from 2011 to 2013, he laid the foundations for Asian football to continue on its path to success amidst the Confederation's most challenging period.
During his Presidency, Zhang reinforced the AFC's commitment to support its Member Associations with the AFAP marking a significant increase.
He was also influential in expanding the reach of the game with the introduction of the Grassroot Year in 2013, which set the momentum for the highly-successful AFC Grassroots Football Day.
In 2006, he became a member of the FIFA World Cup Committee and was awarded the prestigious FIFA Order of Merit in 2007, before serving on the FIFA Executive Committee from 2011 to 2015.

From AFC