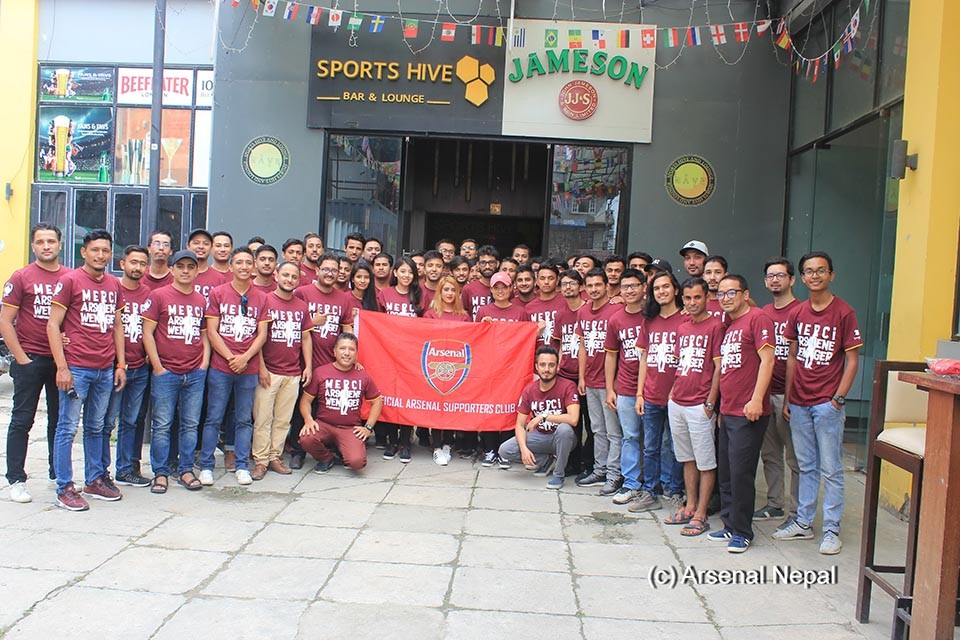 Arsenal Nepal organized the 6th Arsenal Nepal Annual Grand Meeting on 22nd September, 2018.

The event was held at Sports Hive, Jhamshikhel, where Arsenal Nepal frequently holds screening for Arsenal's matches too as well all the last 3 FA Cup final matches.
The event, which was hosted by one of the Arsenal Nepal administrators – Niroj Khatiwada, included the distribution of membership cards to the members for the season 2018/19.

Around 200 new members were added this year to the Arsenal Nepal family. Till now Arsenal Nepal have around 600 official members. The main theme of this year AGM and membership package was tribute to Arsene Wenger who served Arsenal for 22 years long. During Wenger era Arsenal had achieved 3 Premier League title which include 1 invincible, 7 FA Cup and 7 Community Shield.
The volunteers for last year's Arsenal Nepal events along with event sponsor 'The Jersey Pasal' and Futsal sponsor 'Jazz Upstairs' were felicitated. The winners and participants of 6th Arsenal Nepal Annual Futsal Fest were also awarded during the program. Arsenal Nepal new and old members were very excited to hear there will be Arsenal Nepal banner inside the Emirates Stadium from this season.
Sahara Basnet, the Miss Nepal Asia Pacific International 2017, was invited as the special guest for the program. Herself a Goonerette, Sahara, spoke about the wonderful atmosphere the Arsenal Nepal family has and thanked everyone for the support in her own journey.
Along with interactive tea session, a video compiling Arsenal Nepal's events like Futsal, Football, Screening and Cycling throughout the year was shown. Vice President Avash Ghimire also discussed about the plans of the club ahead.
Speaking at the end of the program, President Nabin Chitrakar thanked everyone. He said, "I would like to thank the members, supporters, sponsors and volunteers. Without any of their support, none of the events are possible." He also added next year we have couple of big and surprise programs which he will reveal beginning of the new season only. He also thanked all the local Medias who covered Arsenal Nepal activities throughout the year and expecting same for coming years as well.
Arsenal Nepal was established in 2009 and has around 3,000 members in its official Facebook group.