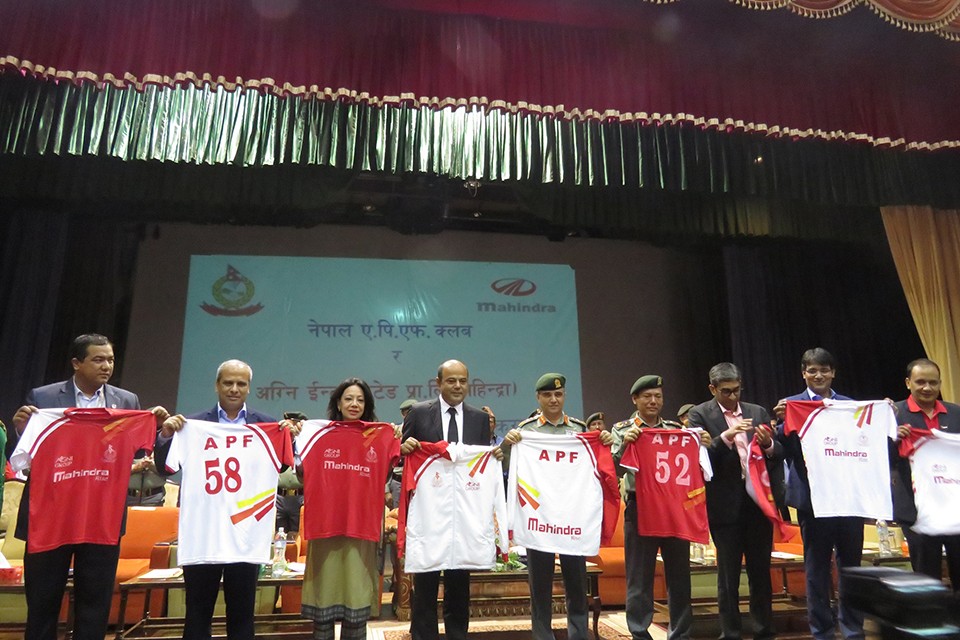 Agni Incorporated Pvt Ltd, an authorized distributor of Mahindra and Mahindra Vehicles in Nepal, has renewed it's sponsorship contract with Nepal APF club.
The MOU signing ceremony was held in APF headquarter, Halchowk with presence of IGP Shailendra Khanal, Chief of APF and Ram Sharan Poudel, President of APF club and Academy chief along with Cabinet Shrestha, Managing Director of Agni Group, Ms. Susan Vaidya Shrestha & Arjun Prasad Sharma Executive Directors of Agni Group.
During the MOU signing ceremony Cabinet Shrestha said "Agni Group is proud to continue the sponsorship of Nepal APF club.
The contract is for the period of Five years. Nepal APF Club will be wearing jersey with Mahindra and Agni Group logo printed on it while participating in all sports activities in National & International level.
"Agni Group has created a positive impact and is taking the sports landscape in Nepal to the next level," reads the statement, adding, "Agni Group has always gone the extra mile when it comes to their Corporate Social Responsibility (CSR) and now are focused on helping the advancement of Nepali sports."
5th Jhapa Gold Cup: Satdobato Youth Club Vs APF FC