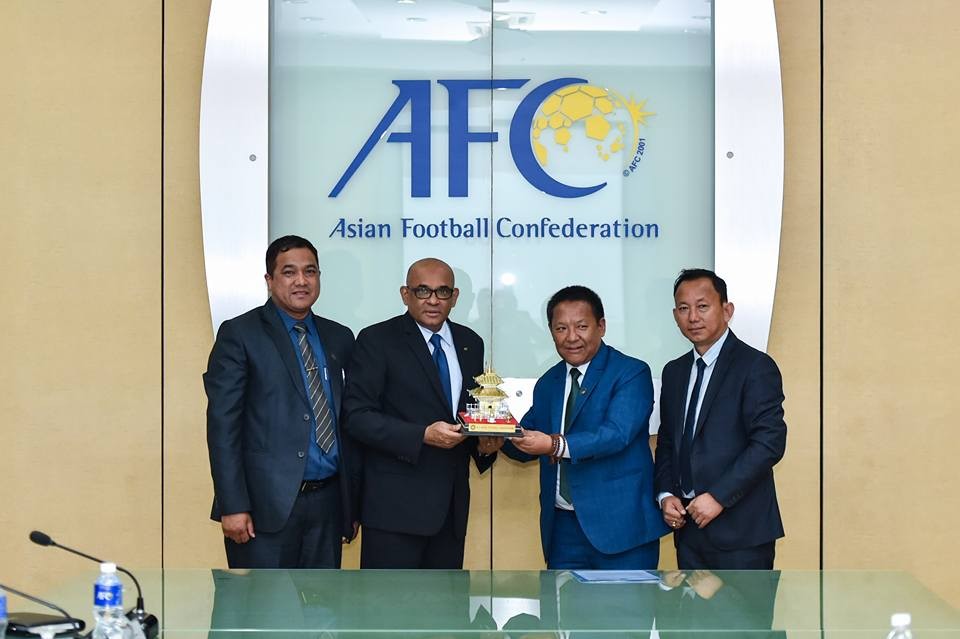 AFC general secretary Dato' windsor John said that AFC would assist ANFA in the future development of the game in Nepal.

Welcoming delegation from Nepal, John said, "Nepal is an important football country in the AFC South Zone and has been a member since 1971 and we look forward to working with ANFA and assisting in the future development of the game in the country."
Dato' Windsor added that the AFC has been encouraged by the announcement that the Nepal League will restart this year as 'League football is the heartbeat of the game in any country.'
The AFC General Secretary also pledged support for the ANFA programme of restarting the League and in the determination to develop the game at the grassroots as well as bringing in technical support for players, coaches and referees.
Karma Tsering Sherpa, the newly elected President of the All Nepal Football Association (ANFA) met with the Asian Football Confederation (AFC) General Secretary Dato' Windsor John at the AFC House on Friday to discuss the rejuvenation of football in Nepal.
Sherpa was accompanied by ANFA Vice President Pankaj Bikram Nembang and General Secretary Indar Man Tuladhar at the meeting in which he outlined to Dato' Windsor John and AFC Directors the challenges facing football in Nepal.
The ANFA President thanked the AFC for their support and added: "We face some big challenges in Nepal. We are asking the AFC for support in the area of grassroots, facilities as well as technical advancement.'
The ANFA delegation met representatives of the AFC's Member Association Development department to further explain their detailed requirements and Dato' Windsor added: "The AFC is only strong if its Member Associations are strong, so we will do what we can to support ANFA."

From AFC