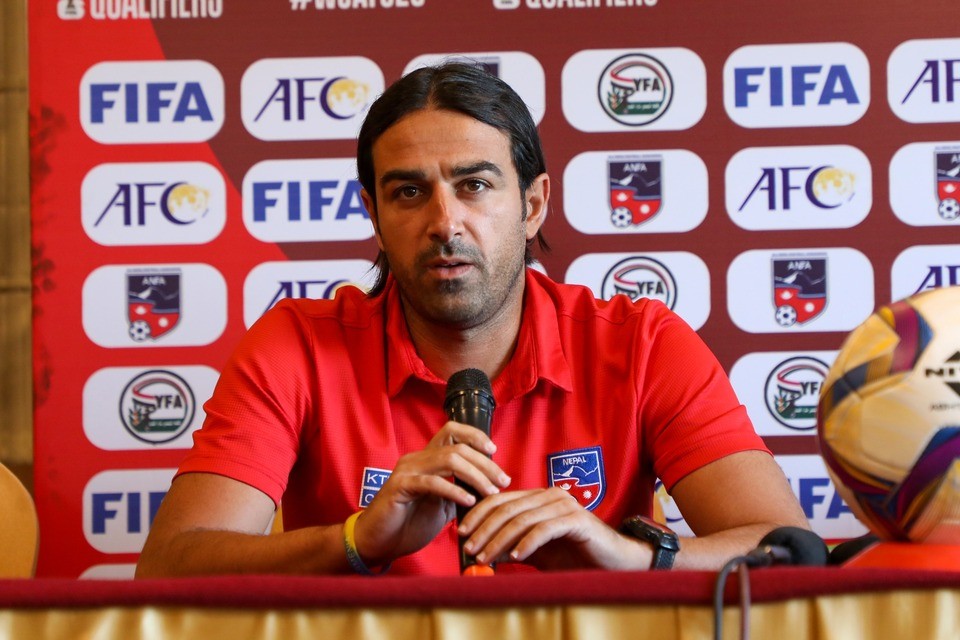 In the pre-match conference held on Monday, Nepal's head coach Vincenzo Alberto Enes said that he is ready for the match against Yemen and will play for victory.
"After the match against UAE, we have prepared well, we are ready for the match against Yemen, before this, in 2017, only one match was drawn. Nepal was defeated in the rest of the match," Enes said, "We want to win this match. We must win this game to give hope to the supporters and players. We want to add points.'
Captain Kiran Kumar Limbu also agreed with the coach's statement and said that he will play to win against Yemen. He said that the defeat against UAE should be forgotten and the match against Yemen will be important to perform better in the upcoming matches.
We are excited for tomorrow's game and there is also a challenge to win. We have to win as this game is important to move on from here," said captain Kiran in the pre-match conference.
The coach of Yemen, Miroslav Soukup, said that the game against Nepal is important for them because they were defeated by Bahrain in the first match.
"We lost to Bahrain in the first match at home. We scored with two mistakes. We have teams like UAE and Bahrain in our group. There is also Nepal. That's why the match with Nepal is important," he said.
Saukup said that his team is ready for the match against Nepal, but the match against Nepal will not be easy. It is not easy to play against Nepal. Nepal played well despite losing 4-0 to UAE in the first match. It is better to go to the UAE and create scoring opportunities. The Yemeni team is also ready to play.
Saukop also said that the goal is to open the account of points from the match with Nepal.
He said that Yemeni players have started playing in foreign leagues, including Bahrain, and now they are getting better.
"It is very important to select the playing 11 for tomorrow's match", Enes said, "Lakeen has been out of the match against Yemen due to injury. We will discuss Anant with the medical team and decide. Because you have to be 100% fit to play.
Enes said that he should have fit players in his team, many players had changed before when selecting the team.
SAFF Championship 2023: Nepal vs Pakistan - Match Highlights