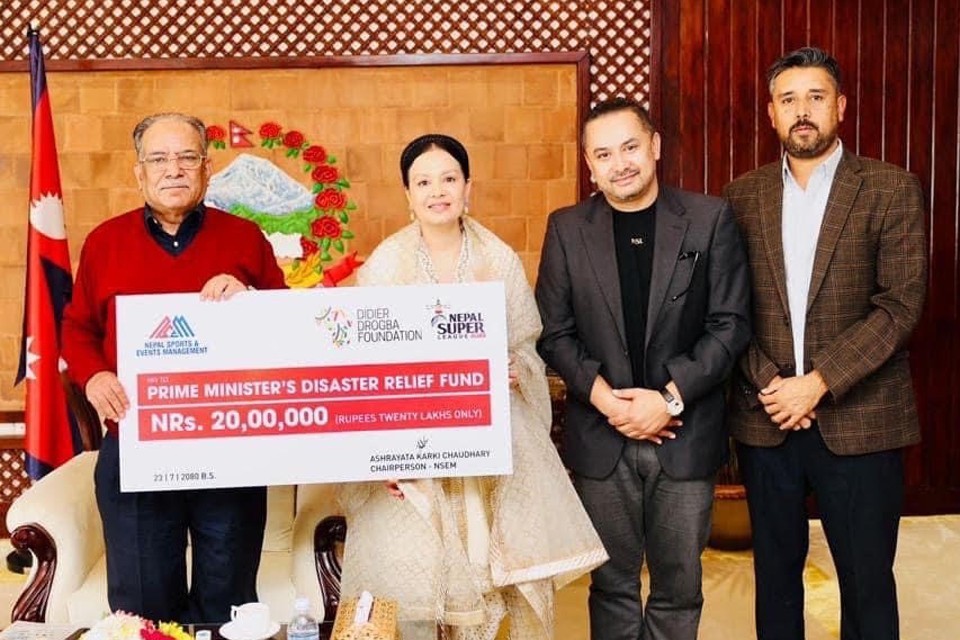 Nepal Super League (NSL) and The Didier Drogba Foundation have jointly provided two million rupees to the Prime Minister's Relief Fund. This amount has been provided with the aim of helping the Nepali citizens who were injured in the recent earthquake in Jajarkot.
Nepal Super League's organizing organization Nepal Sports and Event Management Pvt. Ltd. President Ashrata Karki Chaudhary, Director Shreyans Karki and CEO Sudip Sharma handed over a check of 20 lakhs to Prime Minister Pushpa Kamal Dahal.
President Karki Choudhary said that they believed that their support and cooperation would help the earthquake victims feel relief to some extent.
Remember, Didier Drogba, the legendary footballer of Ivory Coast, said that his foundation would help the earthquake victims as much as possible. Also, Drogba is coming to Nepal for the Nepal Super League.
The second Nepal Super League (NSL) is starting from 8th of November. A total of 9 teams are participating in the league this time.

The first edition of the league was won by Kathmandu Rayzors.