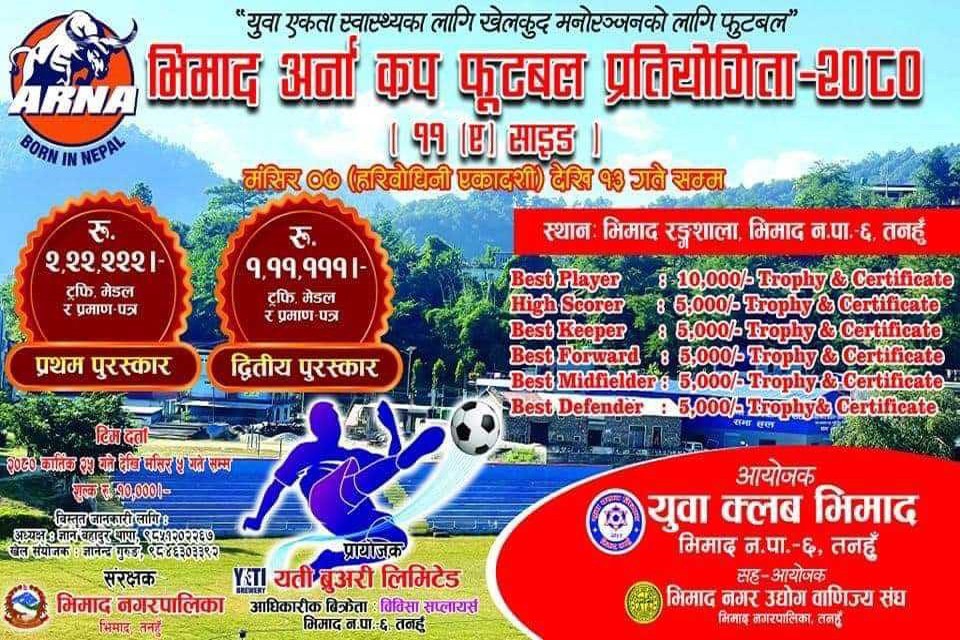 Bhimad Cup Open Football Tournament-2080 is going to be held in Bhimad municipality of Tanahun from 7th to 13th of this month with the slogan "Football for sports and entertainment for youth unity and health".
The team registration for the competition, which is being organized by Yuva Club Bhimad, Bhimad municipality-6, Tanahun and co-organization of Bhimad City Industry and Commerce Association, Tanahun, has been opened till the 5th of November. Also, the team registration fee is 10,000.
Sports Coordinator Gyanendra Gurung informed that the necessary preparations for the tournament to be held at Bhimad Stadium located in Bhimad Municipality-6 are almost complete. The winner of the competition, which is the main sponsor of Yeti Brewery Ltd., will receive a title and a cash prize of Rs. 2,22,222.
Gyan Bahadur Thapa, president of the organizing club informed that attractive prizes have been arranged for the individual category of the competition which is patronized by Bhimad Municipality, Bhimad, Tanahun.

Organizers expect national players to be present in the tournament which is being organized with the aim of producing local players.