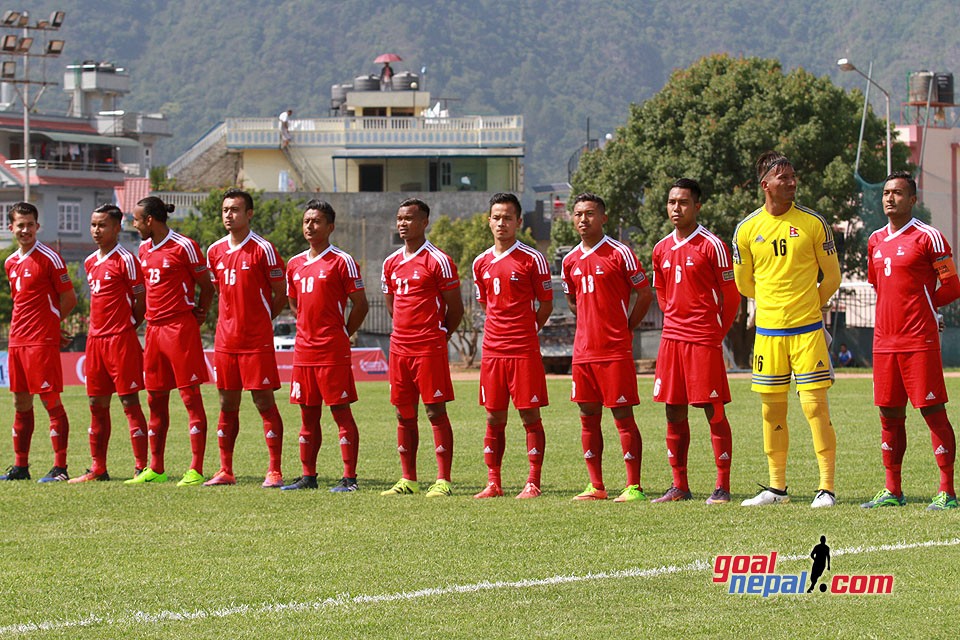 (By Sushil Thapa, Fairfax,VA)

After several months of hiatus, the national football team of Nepal is back in action. They face off Yemen in the 2019 Asian Federation Confederation Asian Cup Qualifiers in Doha, Qatar.

Nepal is languishing at the bottom of the standings in Group F with just 2 points. Since they have already exited the qualifiers, the final outing is inconsequential and merely academic.

There is only the proverbial pride to play for. Definitely wrapping up the competition on a high note is very important for Team Nepal, especially to keep themselves motivated in pursuit of new goals and aspirations.

They are under no pressure whatsoever and have a chance to make some amends. They will need to play with more energy, more enthusiasm and more determination.

Besides, it is very important that they reach their optimal potential, perform consistently well and go all out for the win.

Goal scoring has been the biggest problem for the team. In fact, they are mired in a scoring drought, having scored only two goals in five matches. Despite creating opportunities,they have mightily struggled to score.

Youngsters Bimal Gharti Magar, Nawayug Shrestha, Anjan Bista, Sujal Shrestha and George Prince Karki must step up and rediscover their scoring touch. Clearly, the offense has been out of sorts.

The team's passing has to improve, and the offense and midfield must be in a much better sync.The defence needs to do a much better job against the taller and stronger opponent who are expected to dominate aerial duels.

Goaltending at the hands of Minerva Punjab FC custodian Kiran Chemjong can be considered a safe bet. Likewise, experienced Rohit Chand who plays for Persija Jakarta, Indonesia will have a large role to play in the team's overall performance.

Most important of all, what matters and works is a consistent collective effort and commitment, at the end of the day.

I think we all can agree that it has been a disappointing, frustrating competition for Nepal in terms of performances and results.

At the start of the qualifiers, expectations were high for Japanese Coach Koji Gyotoku's side. They stood a good chance, however, submerged in mediocrity and totally failed to bounce back from a string of reversals.

By contrast, there is plenty at stake for the war ravaged Yemen forced to play their home fixture at a neutral venue.

With 7 points they are two points behind table topper Philippines and level on points with Tajikistan. However, they are in second place with a better goal difference. All they need is a productive outcome against Nepal to go through to the next round.

In the first meeting between the two in Kathmandu, Yemen had held Nepal to a goalless draw. Going into the second leg, the middle eastern outfit have no choice than to go all out to ensure a good result.

They have everything to lose.They understand the magnitude of the game, and I am pretty convinced that they will not allow the chance to go begging despite under some pressure.

They are ready to fire on all cylinders and will leave no stones unturned in their search for victory. We know they have strength, speed and physical advantage over Nepal, which they will try to fully use to their advantage.

I am mildly surprised that All Nepal Football Association (ANFA) has extended the Japanese Coach contract by a year despite a disappointing record. It makes no sense to me.

There is no end to ANFA's litany of mismanagement, incompetence and recklessness. As another example, the cancellation of a friendly match against Malaysia is simply unacceptable.

Then there is the news about ANFA including eight unwanted officials in the national football team for the Doha fixture. What a shame!

Also efforts are being made to thwart the upcoming ANFA election by unwanted elements working against the interest of Nepal football.

Both AFC and FIFA cannot be mere spectators. They have to act and see that the election goes ahead as planned. They must warn the ANFA against political interference and putting the election on hold.

With so much uncertainty surrounding ANFA due to leadership failure, corruption and poor governance, the future of Nepal football is as murky as ever.

As a result, Team Nepal has been underperforming in international competitions, despite a vast pool of talent in the country. Either the talent has been untapped or under- utilized or wasted. This comes as no surprise.

Nepal Holds First Training Session in Kuwait City