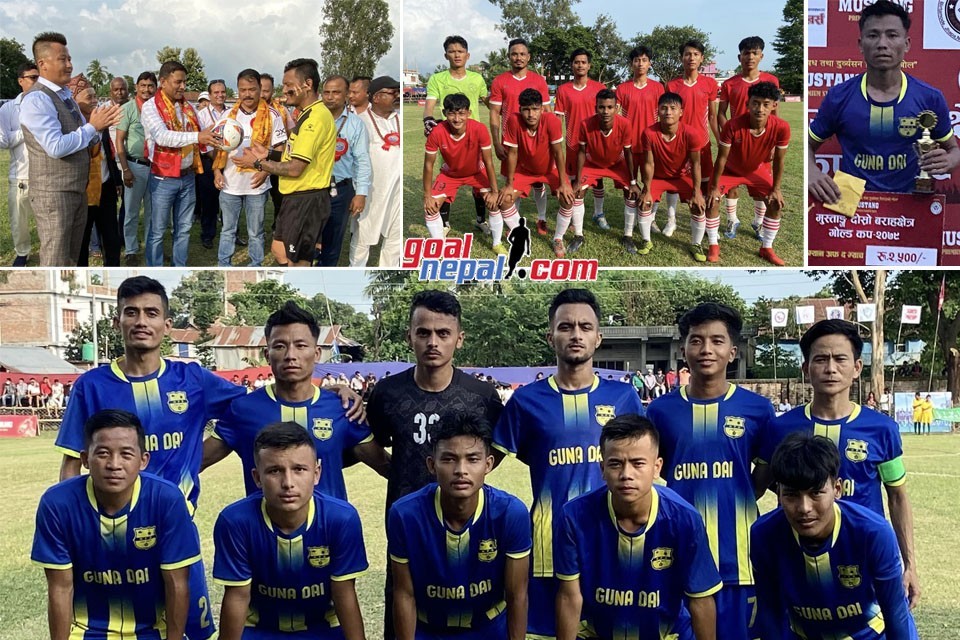 Hatkhola FC, Chatara have made a winning start with a hard-fought victory in the Mustang second Barahchhetra Gold Cup Knockout Football Tournament, which started on Sunday.
In the inaugural match held at Sri Mahendra Ma vi's ground in Chakraghatti, Hatkhola started victoriously by defeating Rajabas Youth Club, Rajabas 4-3 in sudden death. Before that, both the teams played a competitive match with 1-1 goals.
Binod Rai scored for Rajabas while Aakash Rai scored for Hatkhola. Akash Rai of Hatkhola was declared the player of the atch. He received Rs. 2,500 cash and a trophy as an award.
With this win, Hatkhola have also entered the quarterfinals. As part of the competition, the organizer informed that the match on Monday will be played between Cultural Green Club and Little Kickers Academy, Damak, Jhapa.
Prior to that, the tournament was inaugurated by Ayub Ansari, Chairman of Koshi Rural Municipality, who was the chief guest. The winner of the competition, which will run until Ashoj 18, will receive a cash prize of Rs 1,50,000, while the runners-up will receive Rs 1,00,000.
GoalNepal is broadcasting the tournament LIVE.
Sorry State Of Dharan Stadium