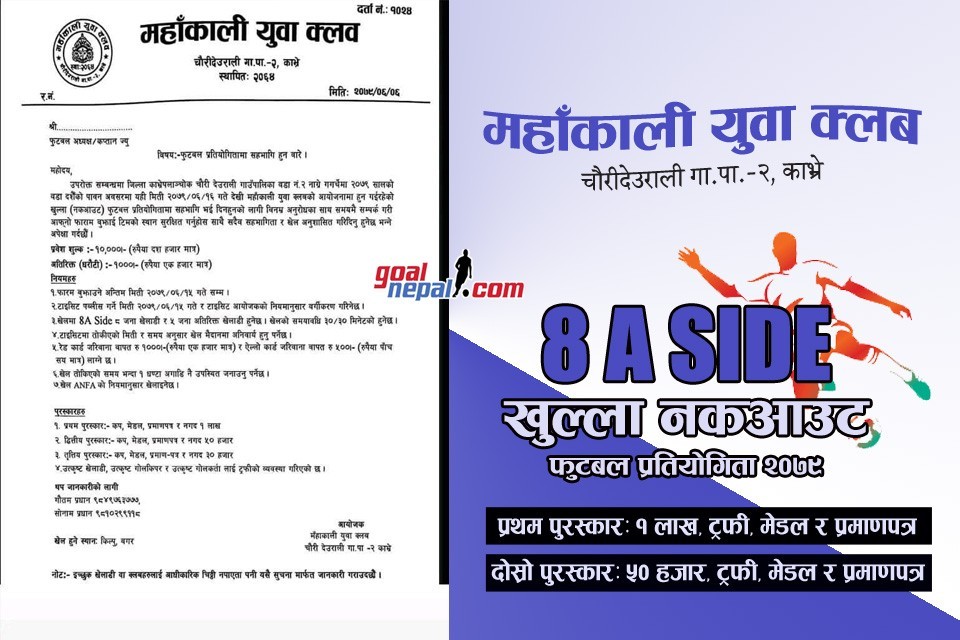 On the occasion of the upcoming Bada Dashain, the eight-a-side Open Knockout Football Tournament is going to be organized by Mahakali Youth Club, Chaurideurali-2 Kavre, from Ashoj 8th.
Team registration has also been opened for participation in the tournament to be held at Kilpu, Bagar ground. The organizers informed that the team registration date will be up to Ashoj 15th. In addition, the team registration fee is Rs. 10,000 and an additional deposit amount of Rs. 10,000 has been set, according to the organizers.
Gautam Pradhan of the organizing club informed that the winners of the competition will receive one lakh rupees in cash along with the title, while the runner-up will receive Rs. 50,000. Pradhan said that trophy, medal, certificate, and Rs. 30,000 cash have also been arranged for the third-placed winning team. He also informed that cash prizes have been arranged for the best players in the individual category.