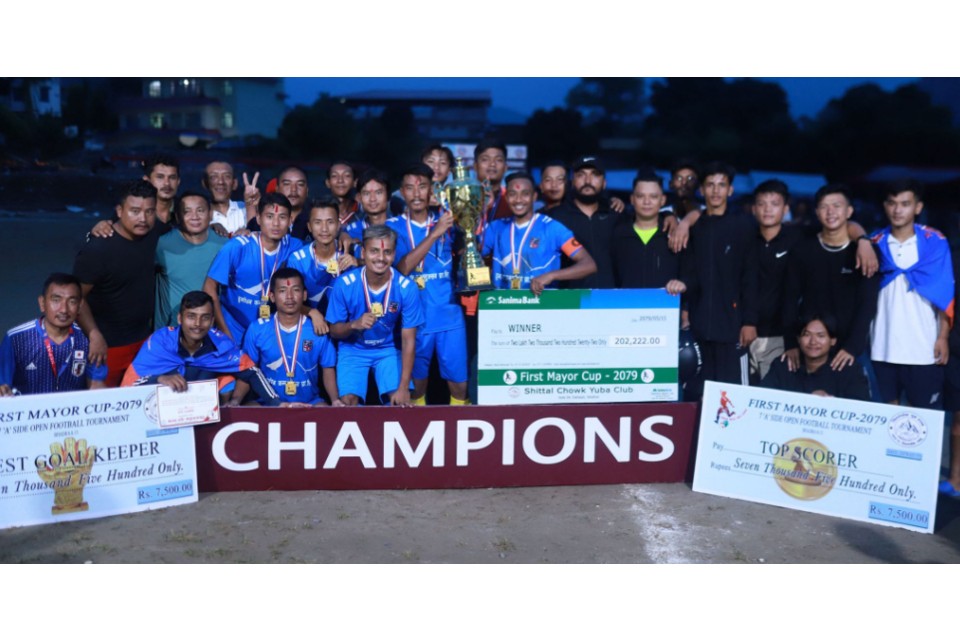 Damauli. Nawayuwa Club of Vyas Municipality-1 High School Tar has won the title of the first Mayor's Cup football tournament held in Damauli, Tanahun. They won the title after defeating the New Buddha Youth Club in the final on Wednesday.
Nawayuwa defeated New Buddha 3-0. The first half of the game, which was very competitive, ended in a 0-0 draw. In the second half, Nawayuwa managed to score three goals.
Along with the title, Nawayuwa received a cash prize of Rs. 2,22,222 and a trophy. The runners-up, New Buddha, received a cash prize of Rs. 1,11,111 and a trophy.
Central member of Nepali Congress and former minister Shankar Bhandari, Chief of District Coordination Committee Shantiraman Wagle, and Chief of Vyas Municipality Baikuntha Neupane distributed prizes to the winners. In the event, leader Bhandari said that initiatives should be taken to build an organized stadium around Damauli while Wagle, the head of the coordination committee said that the interest in the game is increasing, and it is time to think about the lack of infrastructure in the area.
42 teams participated in the competition organized by Sitalchok Youth Club located in Vyas-4.