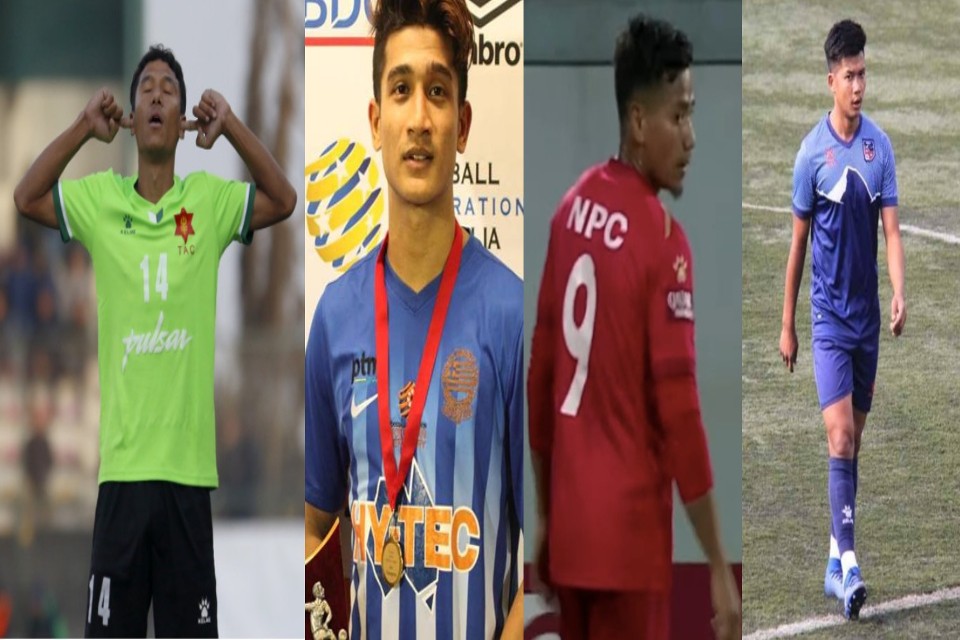 "Nepali football has no future", how often have we heard about this line. Many who are keen on the sport and follow the game in the country use this line more often than not. Even to those from outside Nepal, the idea of someone pursuing a career in football seems improbable.
The people who are a part of the footballing community are aware of the difficulties involved in making a living from the sport. Many have succeeded in making a living, while others have fallen short and switched to another line of work. But recent events involving players with enormous potential leaving Nepal to play minor league football in Australia for job security have dashed the hopes of those who want to see Nepal reach new heights in football. Additionally, they are not playing for a big club abroad like Rohit Chand or Kiran Chemjong; instead, they are there to compete in minor leagues.
But this also serves as a reminder of how often we need to carefully consider the circumstances surrounding this. Let's examine some of the current factors that may be driving these talented players away from their homeland.
In Nepal's football hierarchy, the short length of the leagues has become a major issue. Even in Nepal's top division, clubs are only regularly active for three to four months. With the exception of a few Gold Cups that are held across the nation, they are completely inactive outside of that time period. Not all clubs in the nation are able to afford the costs of long-distance travel with the entire squad. Furthermore, not all clubs in the country are capable of winning and turning a profit on their investment. And without that, they cannot pay the players. The league season attracts sponsors, whereas the off-season does not. Many top players have been seen playing in many districts across the country for clubs that are unheard of for pennies, which is unfortunate.
Uncertainties surrounding lucrative NSL tournament
The introduction of the Nepal Super League was viewed positively by players in the country. It not only increased the number of competitive games they played, but it also provided an economic boost to the players. The franchises' large investments in the players through the auction process, as well as better management in the first season than seen in the A Division league, did provide a morale boost to the players. However, the controversies surrounding the ANFA, A Division clubs, and NSL organizers have cast doubt on the second edition even after the auction procedure has concluded. If this trend continues, the relief that the players felt when it was first introduced will be entirely lost. And the players would then opt for the safer option of going abroad for economic security rather than getting lost in Nepali football's maze.
Active social organizers in Australia ready to help players
Many tournaments, such as the Gurkha Nepalese Community League, are organized by NRNs who live in Australia. The people who live there are ready to welcome these players with open arms. The caliber of international players competing in Australia's minor leagues is undeniably appealing to club owners. But these Nepalese clubs don't pay these players. Nepalese teams in Australia just seize the chance by aiding players in obtaining a VISA, a job, and housing. To support themselves, the players will need to work five to six days a week and will also need to practice in the evenings in order to play on the weekends, informed Bibek Pratap Panta, a former TAFC player currently playing in Australia.
"The players can easily earn more money than they can in Nepal if they make it to any state league or NPL", said Bibek Pratap Panta told GoalNepal. "They will therefore have two sources of income: work during the week and play during the weekends. Nepalese teams don't pay anything; all they do is assist the players in finding the escape they so much need and crave".
Recent controversy surrounding Nepal head coach and players
It is uncommon for players to leave the national team's closed camp for contentious reasons. One or two players leaving is one thing, but nearly half of the squad leaving raises many eyebrows. And those players weren't there for the first time or for a short time; they were the seasoned superstars who leave an impression when they take the field. Those veterans being unable get a proper decision from ANFA does make the younger players think about themselves. Their statements about not playing under head coach Abdullah Almutairi lead us to believe that some of those players will follow in the footsteps of Santosh Tamang, Nabin Gurung, and Aashish Lama. And to add to that, ANFA's incompetency in solving issues like those doesn't help either.
These points do not capture what the players who have traveled to Australia are thinking. This, however, is not a new phenomenon. For a long time, players like Jagjeet Shrestha, Sulav Maskey, and Alan Neupane have lived and played in Australia. So to say that this event has been repeated and has not started recently is not incorrect. The players who have recently left for Australia have been identified as the Nepal national team's future. This will only raise questions about the country's football structure, as well as the feasibility of these players making a living from it. Only time will tell where Nepali football is heading. And, for the time being, Nepali football requires a wide awakening.
Note: We have corrected the way these players have to earn a living after they travel to Australia. We regret the error.